• For the week's scheduled events, check the
CALENDAR
• To find your download page for products you have purchased, login
HERE
Ok, so AI can write my content....but let's get to the important stuff...
Can it make a decent espresso?
Still sneezing and coughing but getting better - hay fever season is here in all its glory!! But, of course - still online and still working, just not zooming around! Pollen counts are dropping already though so should be fine in a couple of days.


Today's topic is an important issue right now, so without further ado....


Google's "Helpful Content" Update...and Why You Need to Understand It!
Google's new Mantra goes something like this:


Make it easier for people to find helpful content made by, and for, people
Yes, this is the focus of Google's latest rollout - it does NOT override their core SE guidelines but it will affect how some of them are 'interpreted' by their system. Content that is too perfect, over-optimized, or blatantly AI-generated, is going to be hit and some feel it is going to be a hard hit.


Sites that are not well siloed with focused and authoritative content - written for human eyes not the SEs - are apparently going to take the heaviest hit.

And we need to be aware of this one because it is focused on these industries:
Online Education, Arts and Entertainment, Shopping, and Tech


Hmmmm....yep, I think most of us will fit into at least ONE of those categories....
From Google itself - just before the official rollout on August 22:
What creators should know about Google's helpful content update



Google Search is always working to better connect people to helpful information. To this end, we're launching what we're calling the "helpful content update" that's part of a broader

effort

to ensure people see more original, helpful content written by people, for people, in search results. Below is more about the update and things creators should consider.


Focus on people-first content


The helpful content update aims to better reward content where visitors feel they've had a satisfying experience, while content that doesn't meet a visitor's expectations won't perform as well.
If you have attended any of my SEO Zooms, then you will know that I always, always stress that you write for HUMANS FIRST and Google second. Google has for eons now stressed user experience over commercial value, which means content written for people, not algorithms.


Yes, I use SEO plugins - but I write the article FIRST and then use the plugins 'tips' to improve it in the Search Engine Results Pages (SERPS) but I never use any suggestion that changes the context, makes it un-readable or over-optimized.


If you are using a plugin with a scoring system, at this point, you are probably better off staying in the 80% to 90% range rather than shooting for 100% as Google may view your efforts as being 'over-optimized"


AI-generated content done in massive amounts are also going to take a heavy hit. Sites that use tools like Jasper to create 500 pages of content overnight? Watch them plummet in the rankings, just like those software-generated 'rank and rent' 10,000-page sites were nailed by the Penguin update a few years back.


Using Jasper or Content Gorilla or other similar tools to write your first draft? As long as you remember the concept of putting the reader first and keep the style informative and helpful, I think we will be okay. And ALWAYS use a tool like Copyscape to make sure that your content is truly original!


And of course - all of this is conjecture at this point, because although the 'experts' are predicting mayhem as always - it will take a while for it all to shake out and see what Google really wants and expects from us.


In the meantime - continue to create great, user-friendly HELPFUL content and you should be ok ;-)


Quick Update: Meet The Content Creators
Updates went out last night if anything was missing ;-) Affiliate links will be going out to the participants early next week!


And we are launching on WarriorPlus so open for all to promote!

Featured Today - TL/DR version:
LOVE THESE

CANVA TEMPLATES FROM SASHA!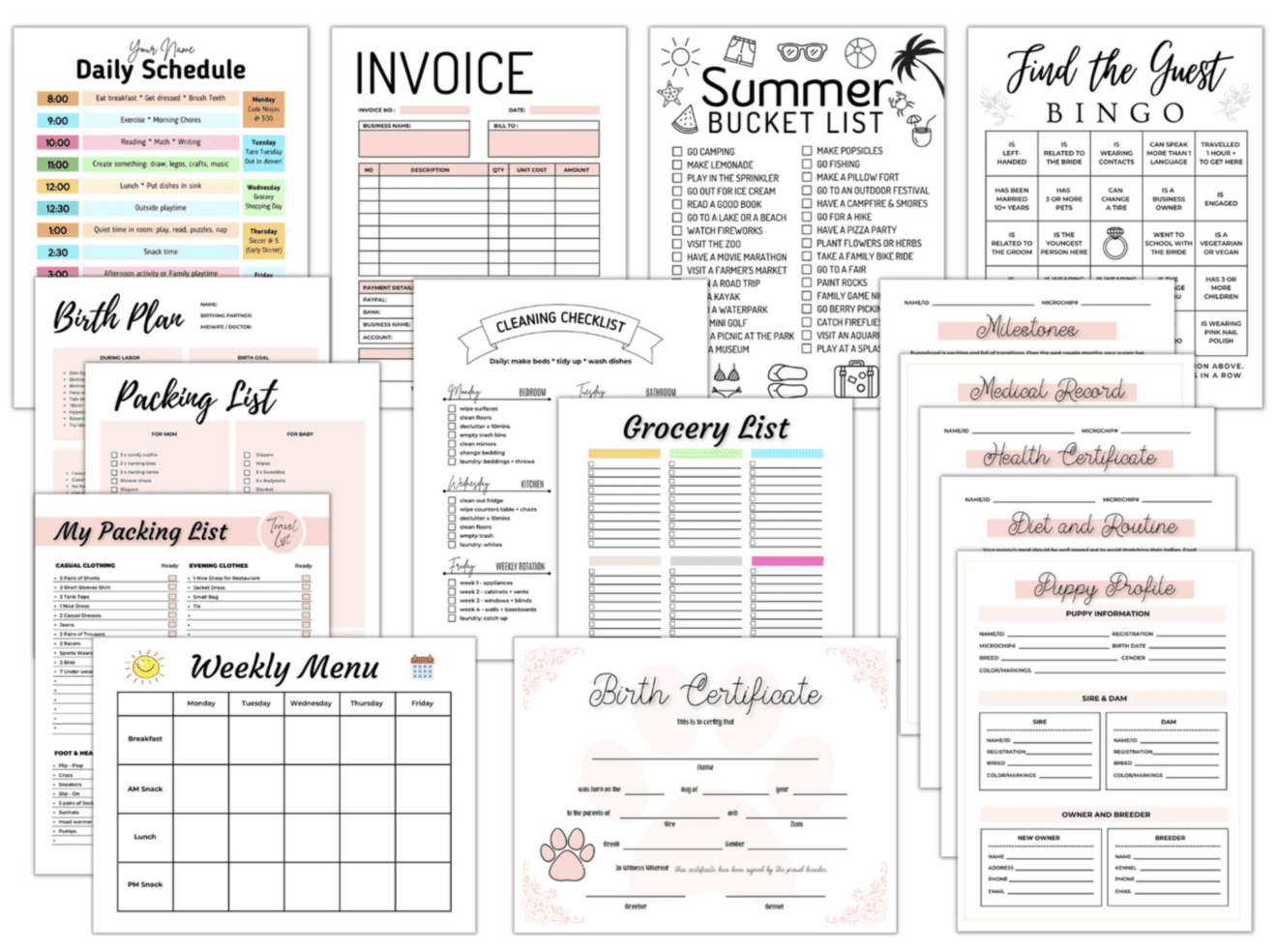 If you want to succeed at something - learn from someone already there - and Sasha is a top 1% seller on Etsy!! Her latest release includes 12 done-for-you templates, ready to sell as printable products or you make them into fillablea for you to resell in your own e-commerce shop.
Included are 12 commercial-use templates (32 pages/US Letter size) that you can customize for free in Canva.
Templates are in size US Letter.
4) Birth Plan & Hospital Bag Checklist
7) Menu Planner and Grocery List
BONUS: 9 listing images you can use to sell your products more quickly
Only $19 for this amazing product bundle!


NEW PRODUCT!

MIX & MATCH BORDER ART KIT
Border Art Designs - Mix n' Match Bundle Pack
Another gorgeous and creative new product from D'vorah! This new set is a 'mix and match' bundle of border designs - use them to create new stationary products or dress up your planners, journals, notebooks and more!


HOT DEAL!!

TOP SPEED FOR YOUR WP SITE
If you are like me, you're wasting more time than you realize waiting for things to load on your WordPress site.....or I WAS until I started using WP Fast Dash
The plugin works right out of the box to speed up the backend of your WordPress-powered sites - all you need to do is upload the plugin, activate it, click a few checkboxes, and you're good to go.

This also includes a kind of techie speed tactic most people don't talk about...an OPcache checker. When you have OPcache activated on your site/server WordPress loads up to 3 times faster (mine is super fast now!). It was easy to set-up as the plugin will check to see if your host


In 1-click you can test if OPcache is running on your site. If the test comes back negative, Mark and Michael actually give you copy & paste text you can use when submitting a support ticket to your web hosting provider to get OPcache activated on your server. ;-)


Bottom line - this WORKS!!


BEST BONUSES!!

7 FIGURE LAUNCH SYSTEM
Love him or hate him - you can't deny that Michael Cheney knows what he is doing when it comes to launching! I freely admit that I watch his videos in small bits over a week or more, but I always come away with pages of notes too.


And TBH - the bonuses are worth the price of admission to this one - at only $9.95 - you really can't go wrong. This is full of gems - just please!! - actually go through this and put it to use. Don't let this great info sit unopened!! (And yep, we all do that!)


P.S.
This amazing membership is an incredible bargain! Every month, members receive A DigitalPlanner, a Printable Planner, Lead Magnet, at least 10 Covers and additional graphics, Stickers, Drag And Drop Templates & Widgets to customize your planner layouts and a LIVE WORKSHOP! All designs are exclusive to the PLUS members, and all products come with full commercial use rights. All of this for only $27 per month!


You can reach us by simply responding to this email - we actually do respond!! See all of our products or login to your Member's area at PLRoftheMonth.club
Please note: This is a commercial email, and you are receiving it because you signed up to one of our lists at some point in time. If you don't want to receive our newsletters anymore - just click the unsubscribe link at the bottom of this email. If you purchase a product through a link in this newsletter, we may be compensated for that purchase as an affiliate of the product. Then again, we also include lots of links to other websites and cool stuff for you, just cuz we are nice peeps and that's the way we do things. ;-)