New to our newsletter? Welcome!
Looking for the unsub button? Check the bottom of the newsletter!
• For the week's scheduled events, check the
CALENDAR
• To find your download page for products you have purchased, login
HERE
Find them at the bottom of the newsletter!
Just a quick note today, as I need to get my mom's grocery order placed before the deadline for today's delivery! She lives in FL, and I am in Ohio, and thankfully her area is serviced by InstaCart. At 87, she still lives on her own, but we have tried to keep out of the stores as much as possible since COVID, so the delivery services have been a wonderful resource. But between getting the orders by phone from mom, ordering everything online and then being available for the shopper to approve changes etc - it takes most of the day to get her shopping done! And while I will be eternally grateful for these wonderful people - it would be a lot faster if I could just hop in the car and do it myself!

But Mom will not move to Cincy, and I don't see Florida in my immediate future so I do what I can from here ;-) It's not an ideal situation but it's the best I can do right now...


And there are so many things in business right now that I feel like I am not really happy with - just 'making do' until I can figure out better/easier/faster ways of doing things.


So I am on a course buying spree at the moment, and setting aside one day a week to totally engage with one course at a time. I know my learning style and immersing myself for an entire day, to go through a course from beginning to end, whether that is 2 hours or 18 hours (yes, I have done that!) is the best path for me. If I try to go through a course one hour per day...I never do it!


I also know that some course creators resonate better with me than others - their teaching style is more of a fit with my personality, so I tend to be more attentive and learn more from them. I also take notes, lots of notes, because I hate trying to go back and find what I want in 6 hours of video.

BUT - I have also learned to make note of the time on the video for super important things I might want to review later - SUPER helpful!!

And I love it when they include searchable transcripts - even when they are unedited and 'raw' - it makes it so much easier to review later!


Seems to be the week for AMAZING offers to further your education:
Looking for General "From the GROUND UP" training on virtually everything related to internet marketing? Then you definitely want to check out David Perdew's NAMS training - on a SUPER SALE through the end of the month! This is the grandfather of all training programs and one that you will refer back to time and time again in your IM journey!
Cindy Bidar just launched the PERFECT companion piece, Opt-In Funnel Quick Start Guide, to the two courses I had already recommended this week, as Cindy's focuses on the OPTIN funnel, rather than the SALES funnel process inMatt's course (below)
This is the "nuts-and-bolts" kind of training that Cindy excels at -
AND, it's an amazing bargain at just $9.50. Like SEO - this is one of those skillsets that you NEED to know and you will never regret learning it.
It comes with video walkthroughs, checklists, worksheets, and a Trello board. All you have to bring is your lead magnet.
Use code FUNNELQS to get that $9.50 price!

BONUS: Buy through my link and receive the updated "Blogging for Dollars" Lead Magnet. Just send your receipt to [email protected] with "BONUS" in the subject line.


If you have not picked up Debbie Gartner's courses yet - her best-sellers are on sale this weekend:
Use MEMDAY77 at checkout for $20 off through Memorial Day.
For some reason which I have yet to figure out - the PLR/Low Content niche seems adverse to funnels. But I have news for you - FUNNELS WORK! Outside of our niche? Funnels are expected. But funnels do NOT need to be 22 products long (ugh...another one??) to be effective ;-)

When I launch a product on Warrior+Plus - the buyers expect a funnel and affiliates won't promote without one - plus the truth is that I earn 2X to 3X with every launch there. But funnels can be complicated to put together - Matt does a complete 'over-the-shoulder' walkthrough to put it all together. And an EXCELLENT traffic course included too!
From John Thornhill and Dave Nicholson - 60 Minute Warrior

This is the complete A to Z video walkthrough of setting up a product and offer on Warrior+Plus!! If you want to launch your product here but find it confusing or intimidating - YOU NEED THIS! W+ is a great place to build your rep and your list but it is not the easiest thing to set-up - this will get it done!!
These two courses are both under $15 right now - and have more info in them than most of the $97 courses I have looked at lately - great investments in your business so I hope you will check them out if you have any questions on either topic.


My very good friend, Stephanie, Hansen, of WildflowerDigitals.com - and the 'Ring Master' for all of our events (we love ya, Steph!) is celebrating her business anniversary Stationery Styles Collection, with a sale. These are coordinating stationery kits that can be used in all sorts of products -- journals, planners, workbooks, activity books, and more.
They come in 4 different kit styles:

Basic Stationery Kits

Border Stationery Kits

Divider Kits

Frame Kits
Each kit style is numbered and coordinates with each other kit style's numbers, as the design element for them is the same. But you can also mix and match them with other kits, too. THESE ARE AN EXCELLENT AND EASY WAY TO QUICKLY CHANGE UP AND CUSTOMIZE YOUR PRINTABLE AND DIGITAL PLANNERS!!



Add your templates to Steph's designs and you have new products in minutes!




Save 30% off any Kit with coupon code STATIONERY, through Tuesday, May 31(code can be used more than once). ;-)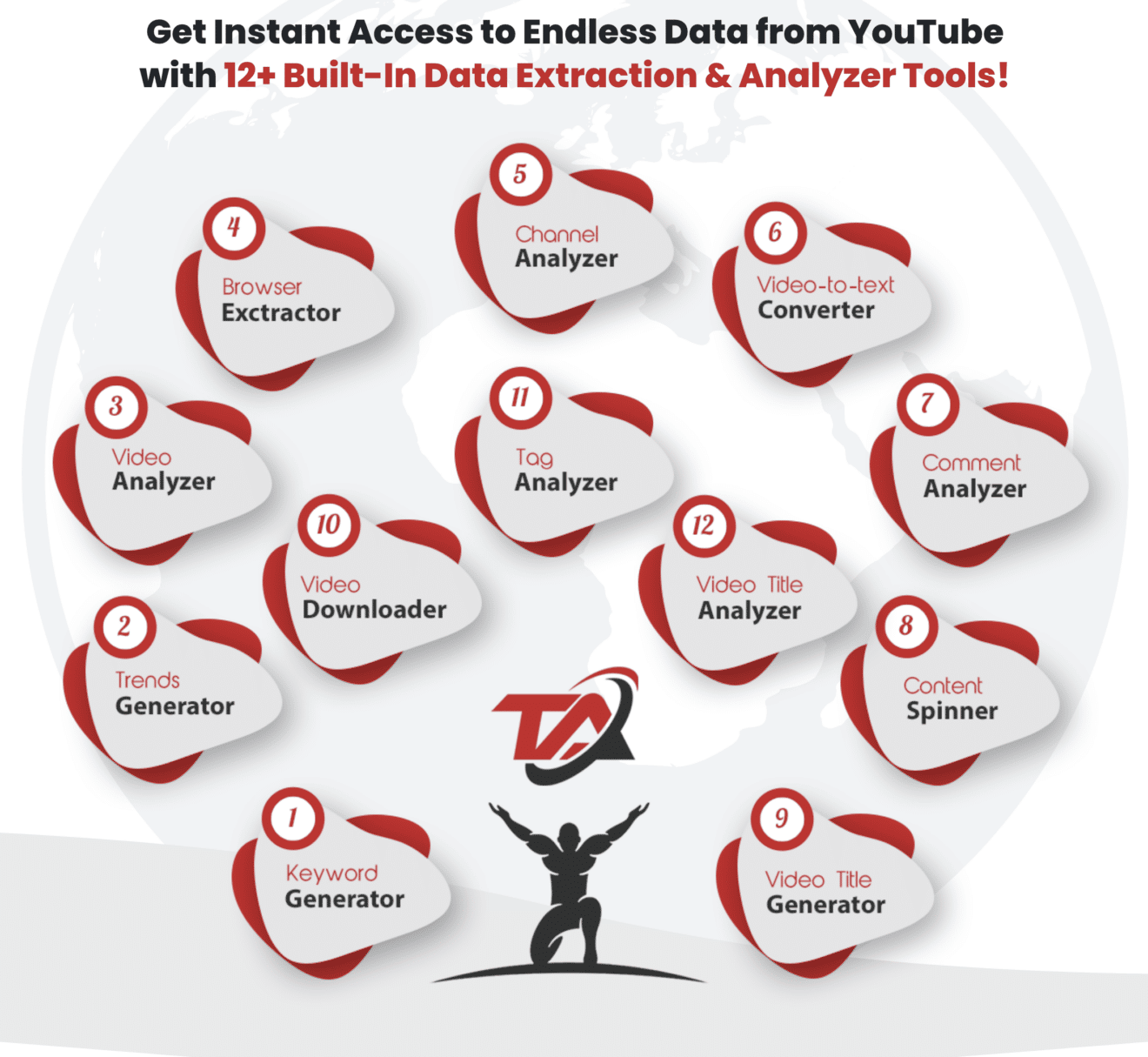 Tube Atlas
Today is the last day for the Launch Special!
I snap up anything that David Guindon releases for 2 reasons:

1) They work
2) I always make money with them because they are tools that I USE, not just buy.

His latest release is Tube Atlas, an amazing software that quickly uncovers thousands of Niches & Keywords, top-trending searches, and hidden markets in just minutes!
And although the data is from YT - the data is relevant to ANYTHING ANYWHERE BECAUSE YOUTUBE IS ONE OF THE BIGGEST SEARCH ENGINES ONLINE!!


You can quickly find the best performing videos for unlimited channels, and generate
powerful hashtags that actually produce results...and know which trends you can cash in on!


There are actually 12 different research tools PLUS - you can install on 10 different computers if you have a VA or 9!


At $37 - this is the bargain of the week!
We are back but for 4 days ONLY!! Get Those Amazing $10 Deals That You Missed The First Time!!!!
Yes, this is your last chance to stock up those amazing deals we brought you over the last 10 days - but only for the next 4 days!

Here's the whole list - in order of appearance on the page - so you don't miss a thing:


#1 Perpetual Digital Planner - Ocean (MELODY WIGDAHL)
Fully hyperlinked undated "perpetual" digital planner includes two-page spread and linked index page and tabs.
Regularly $37, get it now for just $10 with coupon code MELMAY1
#2 182 Unique Digital Covers Bundle (HELEN ROSS)
Cover art images that can be used for planners, journals, posters, card decks, dividers, and much more.
Regularly $37, get it now for just $10 with coupon code HELENMAY1
#3 12 Week Daily Gratitude Journal (STEPHANIE HANSEN)
12 Week Daily Gratitude Journal in a quirky doodle design with daily gratitude pages and weekly summary and reflections.
Regularly $27, get it now for just $10 with coupon code STEPHMAY1
#4 Mandala Collage Coloring Pages (RUTH BOWERS)
Dress up your planners and journals with these 15 unique and intricate mandala collage coloring pages.
Regularly $29.95, get it now for just $10 with coupon code RUTHMAY1
#5 Florida Vacation Planner (JAN SMALL)
Florida-themed travel journal and planner, perfect for those planning a trip to the Sunshine State.
Regularly $27, get it now for just $10 with coupon code JANMAY1
#6 Printable Lead Magnets (MELODY WIGDAHL)
Two gorgeous lead magnets, a 90-Day Revenue Tracker and a Joy Journal, to help grow your email list.
Regularly $27, get it now for just $10 with coupon code MELMAY2
#7 Digital Design Kit (HELEN ROSS)
Design journals, planners, workbooks, and so much more with the 190+ unique files in this kit.
Regularly $37, get it now for just $10 with coupon code HELENMAY2
#8 Mixed Stationery Kit (STEPHANIE HANSEN)
Mermaid-inspired marble watercolor designs that come in a blend of basic and border stationery styles.

Regularly $27, get it now for just $10 with coupon code STEPHMAY2
#9 10,000 Steps Challenge (

JAN SMALL)
10,000 steps fitness challenge with 30 days of motivation. Great lead magnet for bloggers or coaches in the health and wellness niche.
Regularly $27, get it now for just $10 with coupon code JANMAY2

#10 Zen-Style Hearts Coloring Pages (RUTH BOWERS)
10 unique hand-drawn zen-style hearts coloring pages, gorgeous decorative coloring elements for journals and more.
Regularly $25, get it now for just $10 with coupon code RUTHMAY2
All New Designs -
Super Low Price!!
Two beautiful new designs in the popular "Perpetual" Digital Planner series!
only $27 for the set with FULL COMMERCIAL USE RIGHTS!
Have an awesome weekend! I hope you have fun plans and amazing weather for this long weekend ;-)

The price increase is just a few days away! This is 12 hours ++ of LIVE Hands-On training on creating Digital Planners - by someone that is doing this on a daily basis!
Namely, ME!!

AT $47 - you won't find a better deal anywhere ;-)



You can reach us by simply responding to this email - we actually do respond!! See all of our products or login to your Member's area at PLRoftheMonth.club
Please note: This is a commercial email, and you are receiving it because you signed up to one of our lists at some point in time. If you don't want to receive our newsletters anymore - just click the unsubscribe link at the bottom of this email. If you purchase a product through a link in this newsletter, we may be compensated for that purchase as an affiliate of the product. Then again, we also include lots of links to other websites and cool stuff for you, just cuz we are nice peeps and that's the way we do things. ;-)