New to our newsletter? Welcome!
Looking for the unsub button? Check the bottom of the newsletter!

• For the week's scheduled events, check the
CALENDAR
• To find your download page for products you have purchased, login
HERE
Did someone mention Flamingoes??
Yes, someone did and you know who you are!! And while I don't think they are Irish, one of our Kitchen Sink members loves flamingoes, so I promised to dig into the archives until I get the new ones done, so everyone gets a free gift tonight!

This is one of my printables from a while back - it's an undated summer activities planner for the family - OODLES of templates, too - get it here: Flamingoes Summer Planner
Another great Kitchen Sink Mastermind this afternoon - I will be putting together some notes from this afternoon and will have them out to all tomorrow.
The biggest news is that we are pushing back on the date for our Vendor Showcase to April 28th - and I will be announcing our guest speakers Monday ;-) The entire event is free - including a full week of the replays - longer if I can afford the bandwidth LOL!!
And let me stress - this is NOT another series of thinly disguised sales pitches trying to masquerade as educational webinars - we do not do that! These are deep dives into products, services, and platforms that either we use or would like to learn more about before diving in. These are intended to be helpful, not annoying....
Keeping this short today as I am finishing up the printables for the PLUS members (details below) and hoping to get the recent Zooms up tonight but the internet is really running slow so will see what I can get done!
BTW - if you were on the Free Shotgun Traffic Boot Camp yesterday - the special Linkedin cover template is uploaded to the resource section on the group page - hopefully the replay will be there later this evening ;-)

Waiting til the last minute??
If you've been sitting on the fence on these two deals - both disappear tonight: VidMingo & Chad Eljisr's PLR Stack

Scroll down to get full details on both !


Launch Price Ends Tonight!
THIS ONE WORKS JUST LIKE IT SAYS ON THE BOX!! YEA!!


One-Time Price Ends Tonight!
Ok, that should not be something so unusual that you get it excited and start shouting...but sadly, it is! This is an excellent product and checks all the boxes for me for not only the screen recording functionality but for the embed capability & storage
I am not a fan of 'lifetime' memberships, but this service has actually been around for a while, and already has several thousand customers. At this price, it is a viable option that will let me drop the higher-priced Zoom plan that I have. It will also let me get my videos embedded on my site, and off Dropbox, which is something I have wanted to do for a while for several reasons. And as I mentioned above from a marketing standpoint - it is just not the smartest move to be sending customers off to Dropbox when Google wants them to stay on your site!!

This is just a BRIEF list of all that is included - it's loaded to the gills with features, and is all most of us would need:

Use Coupon Code: mingo20 at checkout to get $20 off


Awesome product!!!

Back in about 2017, Joshua Zamora launched Syndranker, a groundbreaking software for getting your content shared across Social Media sites and getting better rankings in the search engine! In large part due to the backlinks created with Syndranker, I sold that site for a very nice chunk of change. Unfortunately, I also passed my account along to the new owners, and Syndranker was closed to the public, so I was not able to get a new account. Recently, Neil Napier invested in Syndranker and the product is not only open to new members again - but it's been updated with a lot of new features!



Connect with 24 different social media and Web 2.0 properties
Set & Forget one-time or recurring campaigns to bring in warm traffic
Syndicate your content to generate traffic on-demand
Generate Up to 200 Backlinks a month

Automate 10 RSS Feeds

Generate leads & sales with a proven method
Power Up every single link or content piece you create, and
COMMERCIAL LICENSE: Make money by offering this as a service!
And before you ask - I picked up the FE, OTO and the one that offered the two-tier linking (very important!), not sure which option that was, but well worth it based on my past experience.
NEW!
From one of my faves - Jan from SimpleHappiness.biz just released this unique Genealogy Planner - You can

mix and match the 46 decorated and unique pages provided, use the alternate design or use the blank templates provided in Canva and Powerpoint

to create your own designs and add your own ideas.
Create a fantastic and unique product for your store.


This set of printables includes

two cover designs

and four backgrounds
PLUS 40

ready-made decorated PDF pages as well as

blank templates

to make it easy to add your own designs
in

US Letter and A4

to cover international home printing requirements
Powerpoint (.pptx) source files

provided
CANVA Templates

also included

so you can use whichever tool you prefer to make your printables your own


Benjamin Fletcher is perpetually on every major leaderboard, so when

this was first released in August, I jumped all over this, and have never regretted the decision

! It's an honest-to-goodness look inside his business, from how he chooses what to promote to how to put together a good bonus bundle.
This is just a very small sample of what this includes:
Ending Tonight!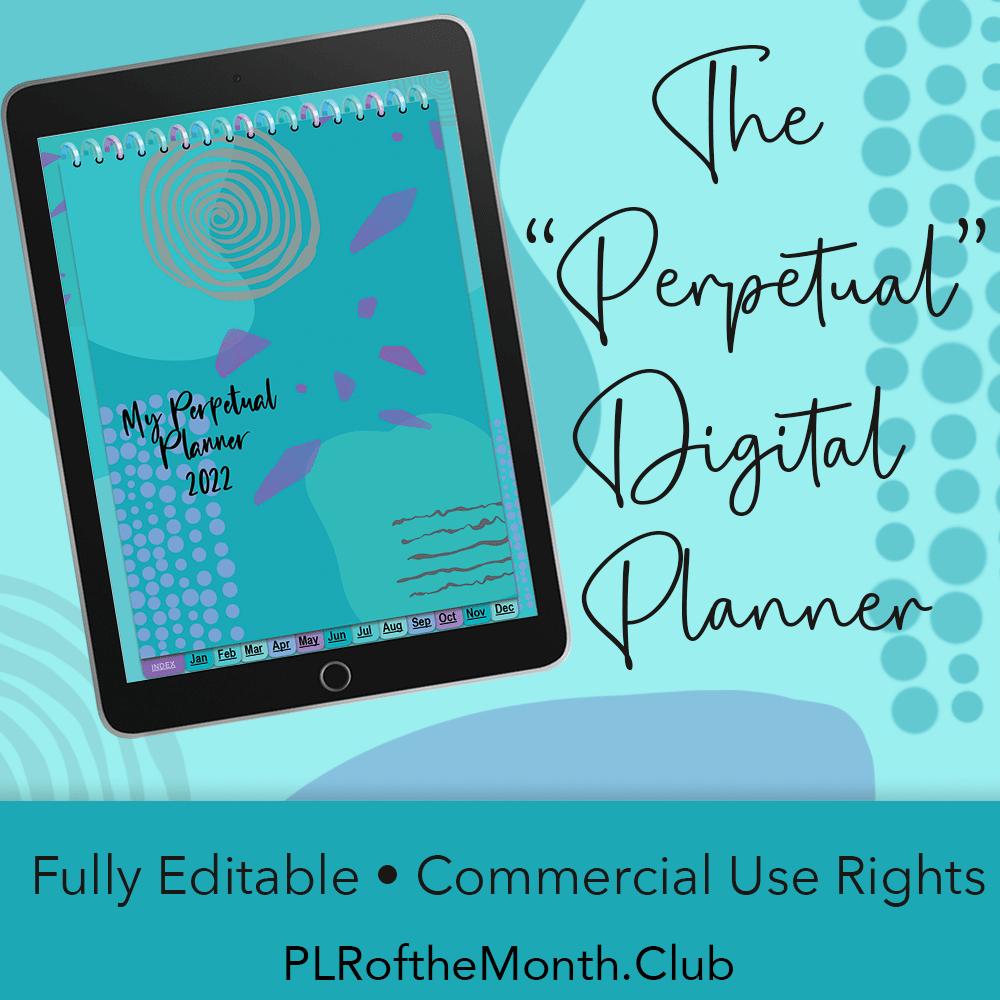 As I am sure you already know - Chad Eljisr launched his annual "PLR Stack" and it is definitely right up there with Ruthie's Bundle (coming in a couple of weeks) for my fave PLR Bundle because it is such a jam-packed bundle of bargains! 36

it includes over 35 high-quality PLR products from top Online Publishers. Here are a few of the many amazing contributors to this bundle:




Pretty much all of your fav content creators are in there along with some great courses and tools as well!
The total value of this bundle goes over $1,630 - but from now through March 17th - it is only $27.00!!
LAST MONTH - 2 For One!!

It had to end sometime!! Since I launched the PLUS membership, new members always get the current month's products PLUS the previous month as a bonus. This
will be the last month that you will be able to get two months when you join!

I just uploaded the new "Perpetual" Digital Planner (above) which features a 2-page center-coil spread with the much-requested "Page flipping" effect, and the printables will be uploaded shortly. Our next Workshop is next Tuesday, March 22!

Get full details here:


That's it for today - see you at the Kitchen Sink tomorrow!

P.S. You can reach us by simply responding to this email - we actually do respond!! See all of our products or login to your Member's area at PLRoftheMonth.club
Please note: This is a commercial email, and you are receiving it because you signed up to one of our lists at some point in time. If you don't want to receive our newsletters anymore - just click the unsubscribe link at the bottom of this email. If you purchase a product through a link in this newsletter, we may be compensated for that purchase as an affiliate of the product. Then again, we also include lots of links to other websites and cool stuff for you, just cuz we are nice peeps and that's the way we do things. ;-)