New to our newsletter? Welcome!
Looking for the unsub button? Check the bottom of the newsletter!

• For the week's scheduled events, check the
CALENDAR
• To find your download page for products you have purchased, login
HERE
The sun is shining and the grass is green and the sky is blue and no matter how much I try to talk myself into it - that just ain't happenin'. Truth is, there is a snowdrift outside the front door that may be hiding the FedEx truck.....and we are expecting a high of 24F today, so we aren't digging out anytime real soon.

But the power and internet seem more stable today so fingers crossed that I can get some work done!


Lots of really great PLR content today - keeping this newsletter light on the images today as my internet is still slower than normal and nothing is up/downloading at the usual speeds!

I did manage to get the replays for the Kitchen Sink PLUS, and Kevin Fahey's Free Traffic Shotgun done this morning and by the time you get this, I should have the Clickvio Bonus SEO session posted too. It normally takes about 45 minutes to an hour for every video that I upload and it pretty much ties up the computer - but this week the 'net has been very slow thanks to the ice storm, so taking about twice as long as normal. But at least it is not buffering today so that is a huge improvement over the last couple of days.


I am also working on cleaning up the Kitchen Sink Mastermind page, organizing the videos under tabs, which makes the page a lot easier to read. Once completed, I will also have a resources tab that will make it easier to find those sessions where we have had a speaker or special training session.

More good stuff to be announced soon ;-)


And I will get the cancelled sessions back on the calendar ASAP!
PLR Video Releases
The Print On Demand Playbook
This latest release by Charles Harper goes beyond the usual POD and includes overviews on both the 'traditional' POD platforms as well as Digital products that can be printed 'on demand' at home AND you also get expert sessions from some peeps you all know and love: Amy Harrop, Rebecca Holman, Amber Jalink, Sue Fleckenstein, Di Heuser and yep...me. Did I mention this is $7 right now??
Written PLR Releases
Looking for new ideas for planners or workbooks? This is EXACTLY the kind of PLR I love to snap up for these kinds of projects! Yes, this DOES come with all the goodies to sell it as a product on it's own - but I use these types of products as SEED material to save me research time! Add some checklists, Q&A, tracking/planning templates - the list is almost endless! - to create an entirely new and unique product that you can sell!You could create an 'interactive' PDF, printable or digital planner in a couple of hours, and have a very high-value product unique to you! As of this newsletter - it was still under $9!! ;-)



Low Content Product Bootcamp


From Sharyn at ContentSparks - one of my fave course creators for SOLID content that can be utilized quickly and for multiple uses. With Low-Content Product Bootcamp, you'll get everything you need to create your own webinar, workshop, lead magnet, or paid product that helps people create quick products for easy revenue.



Business Ideas That Make Money
I am a long-time member of the PiggyMakesBank business content membership, and it's probably one of the better values online. This bundle includes a variety of business ideas for your readers that will be AMAZING search engine food as well if you are looking for easy-to-optimize content for better SEO!!


From Alice at EKIT, this massive bundle gives you three different options ranging from $9.95 to $27. All 3 are great deals - but the $27 option has everything from articles to printables, so you can create everything from blog posts to a full-blown course or challenge with Workbook very easily.


Tools & Software Releases
ClickDesign is one of the best software editing tools I have come across in quite a while, and it includes a ton of graphics and templates as well as commercial use rights. It's a one-time cost of $47 and creates much better 3D images and product bundles than anything else I am using (you haven't seen mine in a while because it sorta looks 1990ish??). I was about ready to pull the trigger for a $77 replacement when this came along! BONUS: Buy through my link and get a $10 coupon
good for anything on our site ;-) Send your receipt to [email protected]
Low Content PLR Releases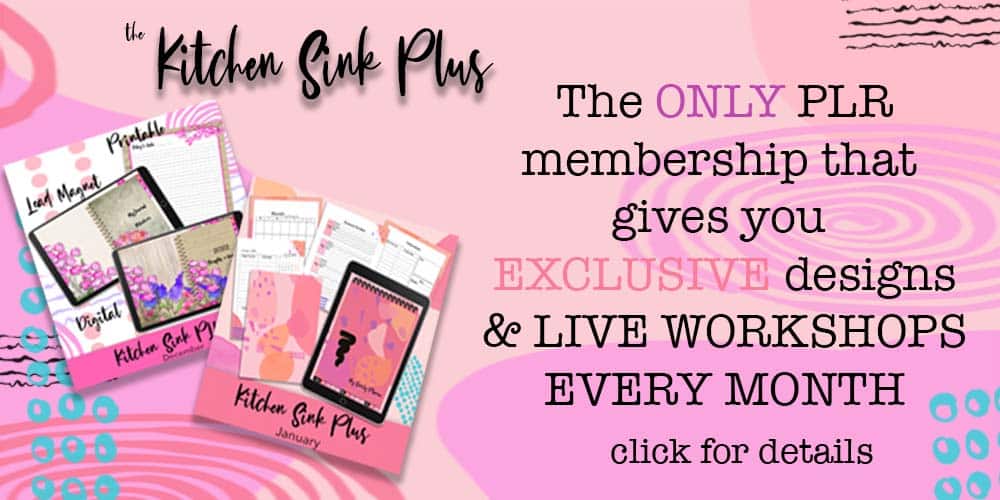 Our Kitchen Sink PLUS membership is open for new members!! January's PLUS bundle is a huge one - in addition to the usual Digital Planner, Printable version, and Lead Magnet, I also added 10 Title Banners, and 160 Stickers, both on sheets and cropped as individual PNGs. PLUS you also get the massive layered PSD Cover Creator file, and 10 covers already created for you ;-) J

oin now and get both December and January's bundles and training

- use

KSPLUS

for $10.00 off!
A big Happy Birthday shoutout to Stephanie Hansen - and she has a gift FOR us - that gorgeous "
One Good Thing A Day
" Journal above!
Use coupon code BDAY57 through Monday - and you can use it multiple times!!
The sale is on through Monday and the coupon is on the sales page HERE
Stay warm and stay safe - have some free goodies for you tomorrow!!

P.S. You can reach us by simply responding to this email - we actually do respond!! See all of our products or login to your Member's area at PLRoftheMonth.club
Please note: This is a commercial email, and you are receiving it because you signed up to one of our lists at some point in time. If you don't want to receive our newsletters anymore - just click the unsubscribe link at the bottom of this email. If you purchase a product through a link in this newsletter, we may be compensated for that purchase as an affiliate of the product. Then again, we also include lots of links to other websites and cool stuff for you, just cuz we are nice peeps and that's the way we do things. ;-)