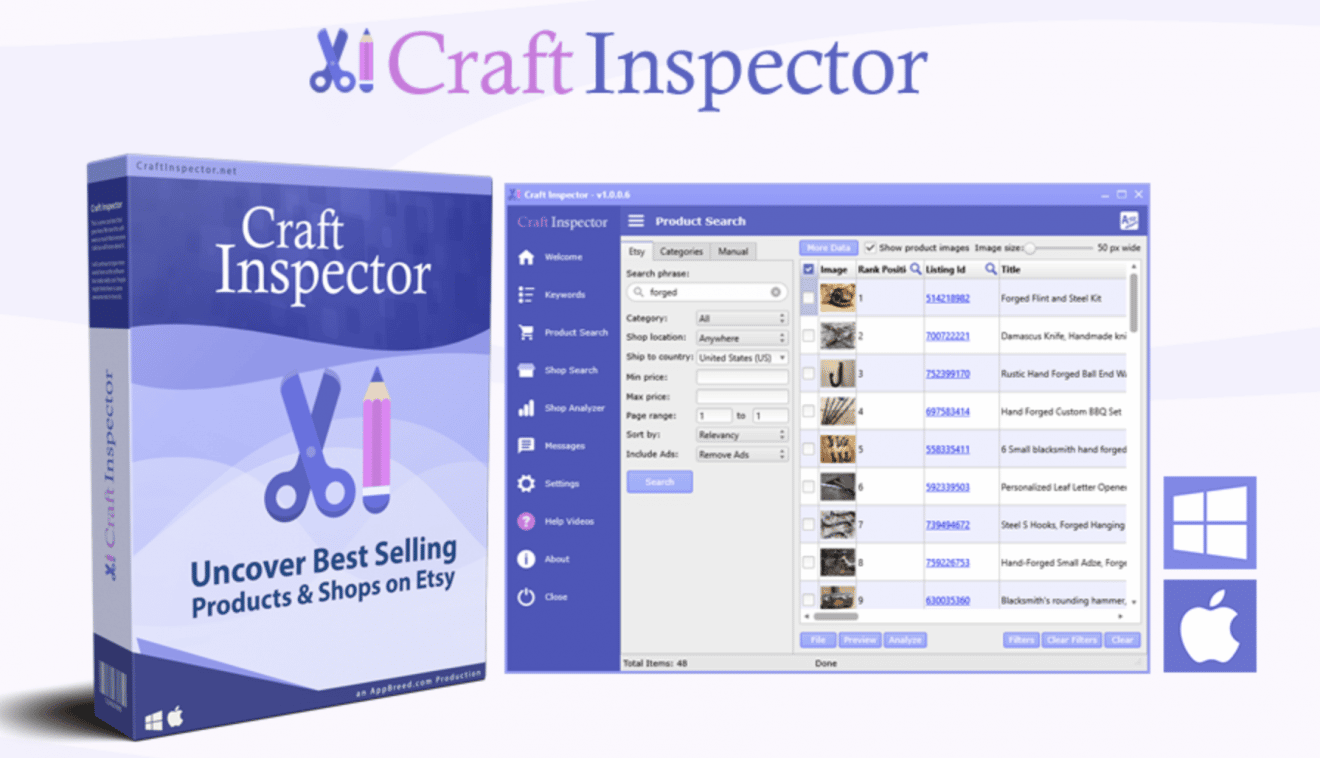 Warning: Blatant over-the-top product review coming up - I don't do something like this very often, so though I would warn ya first ;-)

As you might have noticed - we have been on an Etsy 'kick' for the past couple of months, and getting my Etsy shop up and running is one of my primary goals for 2021!


So I was THRILLED when long-time software developer, David Guindon, released his two new products: Craft Inspector and the OTO, Craft Niche Analyzer. And yes, I bought them both!

Between the two products - you will be able to drill down and uncover every bit of competitive info you need to optimize your selling efforts - no more manual digging as this software does it all for you!
And a special note - this is downloadable software, that you OWN - and you can install it on 10 computers, PC or Mac - so you can outsource the research to your VA!!!
If I sound a bit excited - it's because I am - I kinda feel like I discovered the Holy Grail for Etsy Success!!


You really need to visit the sales page to see what this puppy does, but here's just a LITTLE bit of what it can do for you:
• Powerful 4-in-1 Etsy Research Software for Uncovering Top Performing Shops & Products in Just Minutes!


• Built-in keyword generator that extracts real-time autosuggest long-tail keywords


•27 data points extracted for any product found on Etsy with the Product search tool


• Narrow down search results by category, shop location, ship to country, price range
Include advertisements in your search results to spy on your competition\


• Search by keyword or

category - instantly search products from over 1,100 categories on Etsy




• Built-in shop search tool. Search all shops on Etsy for any given keyword getting 12 data points for each shop


• Instantly find top-performing shops in any niche in just seconds!


• Extract all the product data for any give etsy shop in just minutes


• Tags analyzer tool - analyze the percentage of tags used in sections or any set of selected products.

Get higher Etsy rankings by using all your available tags. Let Craft Inspector show you which listings are not using enough tags




• Product title analyzer tool - quickly identify profitable phrases by analyzing keyword combinations in product titles


The OTO is amazing - CRAFT NICHE ANALYZER - it pulls data from 14 different craft marketplaces for you: Etsy, ArtFire, Binanaza, Folksy, Amazon, eBay, RedBubble, Society6, Zibbet, Spreadshirt. Uncommon Goods, Handmade Artists Shop, Cafe Press and Zazzle! Get the real data on average In-Baskets per product, average pricing, reviews and so much more: 26 DIFFERENT METRICS ARE AVAILABLE!!


P.S. There are a TON of great bonuses too - including the Amy Harrop course on marketing with Infographics!
•••••••••••••••••••••••••••
ZOOMING AROUND THIS WEEK.....


The Tuesday Digital Workbook
Thursday: Kitchen Sink Mastermind
Time: Nov 19, 2020 03:00 PM Eastern Time (US and Canada)
This week we will be discussing our upcoming Etsy Store Promotion (see below for details!)
Zoom access details for both calls are in your member area
UP NEXT:
Come Join Our December Etsy Store Promo!!
So because none of us have anything else to do - or we are just simply crazy - the Thursday group has ALSO decided to throw an Etsy Promo for December!! YEA! Learn more about it HERE - it's going to be a lot of fun and help everyone drive a little more traffic to their stores! Everyone is welcome, so come join in the fun! The event will start December 1, and yes that IS the day after SYSH V2 ends...Get the full details and get signed up HERE.


•••••••••••••••••••••••••••
Don't ask me why, but I love mock-up resources! This one is one of the most versatile I have seen in a while, with mockups for a huge variety of products: T-Shirts, business cards, magazines (planners/workbooks?), Imacs and iPhone and oodles more. Check it out here: Mockup Bundle


• This is a fantastic course, by Hannah Bibby, titled "The 30 Day Etsy Upgrade Plan", and this one picks up where D'vorah left off! Hannah is in the TOP 1% of sellers on ETSY, having sold more than 25,000 digital products since opening her store in 2014!! Her course is all about getting your store NOTICED and MAKING sales. She does not walk you through the store set-up, but rather teaches you how to make money with your Etsy business.


It's 80 pages of great content for only $37.00. I have already printed mine out and hole punched it to go in my resources notebook ;-)
I think D'vorah is one of the best teachers in our space right now - her style is clear, well-paced and so easy to follow along! Her latest course will get you up to speed on creating graphics and printable in Canva in no time!
Check it out here: Create Content in Canva - 20% off with Coupon Code: CANVA20 - Coupon Valid for the month of November




•••••••••••••••••••••••••••
Tutorial Tuesday!!


Just in case you missed this yesterday -




you get a second chance to geek out...

• One of the things I miss the most right now (aside from my fave taqueria!) is going to the gym. I have a bad habit of sitting for way too many hours at the computer, and tend to not drag out the mat to do any floor exercises as often as I should - so I was thrilled to find these Standing Core Exercises that I can do standing beside my desk!! Adapted from yoga & pilates floor routines, these are definitely helping my back and get the blood moving again - and I am doing them because there is no special equipment needed - just get my tush out of my chair!!


If you want to get the early bird scoop on
upcoming events, join us every Thursday for our
Kitchen Sink Mastermind Calls!!
full details in the member area at
PLRoftheMonth.Club
Have a wonderful day!! Don't forget to join us Thursday for the Etsy Event call!

P.S. You can reach us by simply responding to this email - we actually do respond!! See all of our products or login to your Member's area at PLRoftheMonth.club
Please note: This is a commercial email, and you are receiving it because you signed up to one of our lists at some point in time. If you don't want to receive our newsletters anymore - just click the unsubscribe link at the bottom of this email. If you purchase a product through a link in this newsletter, we may be compensated for that purchase as an affiliate of the product. Then again, we also include lots of links to other websites and cool stuff for you, just cuz we are nice peeps and that's the way we do things. ;-)