New to our newsletter? Welcome!
Looking for the unsub button? Check the bottom of the newsletter!

• For the week's scheduled events, check the
CALENDAR
• To find your download page for products you have purchased, login
HERE
Yes, today is the first day of winter, which means the nasty stuff is still ahead of us BUT - this is also the shortest day of the year, which means every day from now til the Summer Solstice will stay light a tiny bit longer.
LOL eternal optimist, much? Yup, and not likely to change at this point.

I drive my poor hubby crazy because I wake up in a good mood every morning... just because I WOKE UP!!
I figure it beats the alternative ;-D
••••••••••••••

Regarding the Nike comment - a Xmas giftie has apaprently been sitting in a warehouse 30 minutes from here since the 15th. Every day we get updates stating the shipment is on its way - always dated the day before. Until today - now it says "Update unavailable". I appreciate my Amazon Prime membership more each day...

Oh, and they don't answer the phone - at the shipping company or at Nike's online store...we may be taking a trip out to said warehouse tomorrow....
••••••••••••••
Advent Door #21 Just Opened!!
And today we have a very special offer from...
Ruthie, RitchieMedia.ca!!!


Click here to see this very special offer



(You won't feel blue after you see this one!)

••••••••••••••
Tutorial Tuesday
Yes, I have some great content for you this week -
cuz I know you have nothing else to do....
Thrive Apprentice 4.0 - Sneak Peak At the New Features!!
The folks over at Thrive Themes have been teasing about the upcoming MAJOR changes to Thrive Apprentice 4.0 and promising to shake things up for course and content creators BIG TIME.

I did get a sneak peak into some of the new features a few days ago when Thrive Themes showcased a few of the powerful new features coming to their course building product but they are still keeping it very hush-hush!!
BUt...tomorrow, Wednesday 22 December, 2021 they'll be showcasing exactly how it lets WordPress users
Sell Anything
and
Customize Everything.
Thrive claims it is a complete digital product game charger. I don't know about that but I think it is certainly worth looking into at this point.
These are sooo pretty!!

This Bundle features 3 Complete Products Plus A Bonus:

Family Home Binder - Deliver your customers a massively sought-after Home Binder where they can keep all their info in one place. In both printable & digital versions.
Year in Review Templates - This fun set of journal templates are a perfect way for your customers to review the year. You'll get a full-color version plus a coloring version, too.
Time Capsule Journal Template - A time capsule with a twist! A fun place to record fun stuff to be read later. In both printable & digital versions.
All three products come with bonus, pre-cropped, digital stickers. You also get all fonts and simple covers in 4 sizes + mockups.


NEW!!
This Step-by-Step Planner Covers (48 PAGES):
Step 1: Define Your Most Audacious Life & Business Desires
Step 2: Dig Deep Into Your "Big Why" to Stay Wildly Motivated (and Manifest with Way More Ease!)
Step 3: Clarify Your Desires to Get Fiercely Focused on Your Most Important Dreams
Step 4: Simplify Your Goals & Amplify Your Results with SMART Goals
Step 5: Pick Powerful & Impactful Goals (So You Can Ditch "Goal Overwhelm" & Make the Next 12 Months Your Best Ever!)
Step 6: Chunk Down Your Big Dreams Into Small Steps & Realistic Timelines
Step 7: Visualize & "Feel Into" Your Next Level for a Major Dose of Manifesting Magic
Step 8: Start Bringing Your Dreams to Life, Starting Right Now!
This is a product that 'speaks' to me - one that I can really identify with because as an extreme introvert (yes, me!), I am ALWAYS pushing myself to the very edge of my comfort zone.

From Lynette at ThriveAnywhere.com, this self-paced workbook can be used to evaluate and gently push against your comfort zone, using critical thinking, and reflection while maintaining a sense of self-awareness and connection.

Excellent product - highly recommended!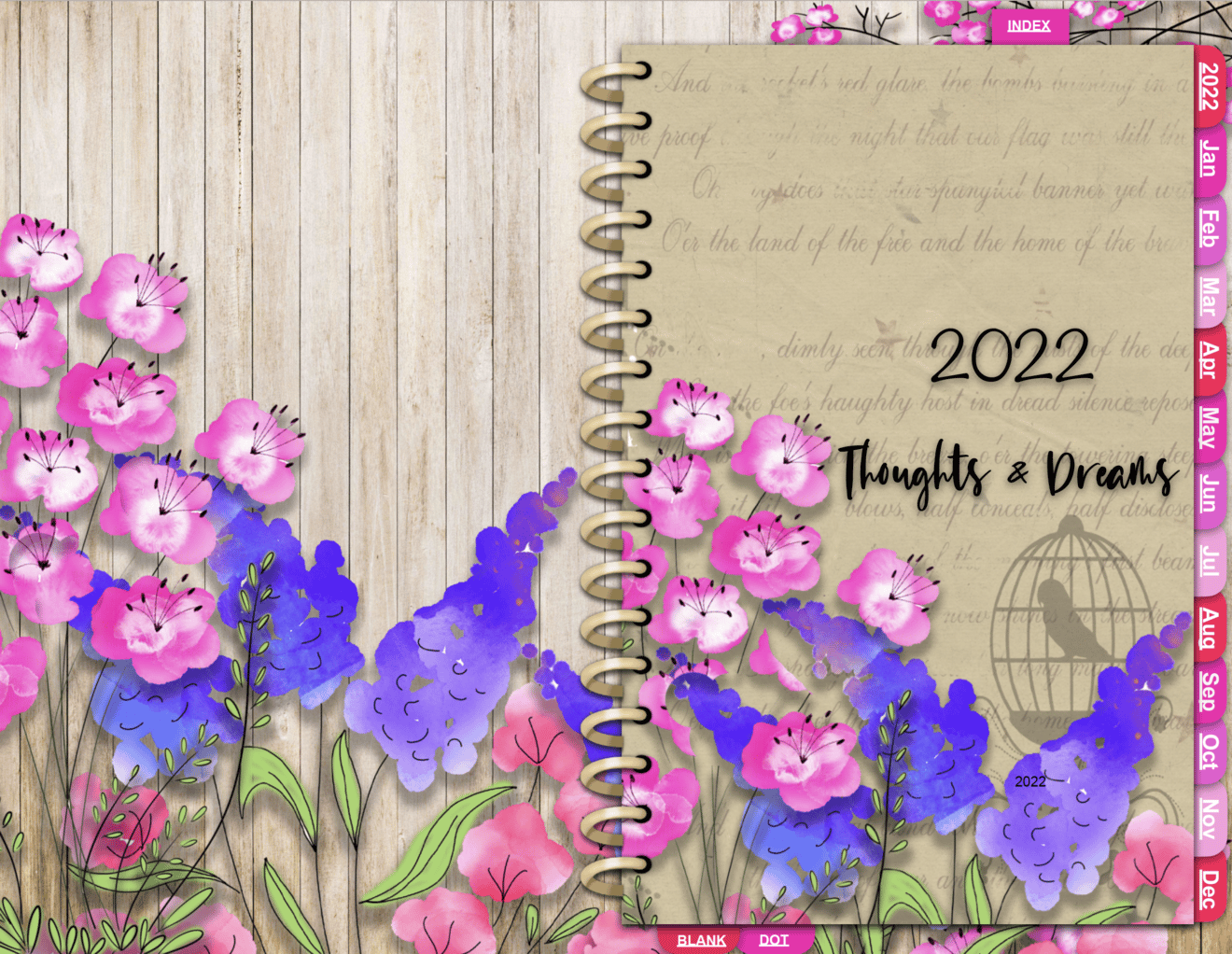 Join The Kitchen Sink PLUS
Before The January 1, 2022 Price Increase!

Join now and get BOTH
November AND December's Bundles!!
As of right now - this month includes more than THREE DOZEN original graphics that you can use as backgrounds, covers or anything you want! PLUS a layered PSD file, and fully compiled Planners - Digital, Printable and 'Mini' Digital Planner Lead Magnet - and more will be on the way shortly '-)
All Products will ONLY be available through the Membership - these will never be sold anywhere else!

New Limited Edition Digital Planner

A New Limited Edition Printable Planner

A New Limited Edition Lead Magnet

A Layered PSD File to create your own covers (at least 10 Layers)

PNG versions of the layers for use on Canva!

Done-for-You Covers

Monthly LIVE Workshop

Surprise additions every month to complement that month's planners!

Join now and get BOTH November AND December's Bundles!!
James Renouf's Christmas Special!
Pick up ALL of his 2021 Releases for one crazy low price - James is the guy for both crypto AND "outside the box" traffic generation ideas (And yes, I got this) - and no, this is not the crappy software stuff - these are all reports, original to James, with actionable content:
Group Bomb
Free Daily Crypto
Digital Download Underground
100 100 100 (Just released!!)
Avatar Crusher
Boostrr
Clubhouse Notes
Crypto CoinDrop
Hybrid MLM
Internet 3.0
Let's Get Ranked For Anything
NFT Exposed
Nine Figure Fresh
Page One Four Play
Paid 2 Play
Paid for Nothing
Show UP 2 Profit
The Missing Link
Insane ROI
Video Ads Hacked
Worldwide Traffic Hack
Truly Worldwide Traffic
Zero Risk Crypto
And I think it is time to make cookies ;-)

P.S. You can reach us by simply responding to this email - we actually do respond!! See all of our products or login to your Member's area at PLRoftheMonth.club
Please note: This is a commercial email, and you are receiving it because you signed up to one of our lists at some point in time. If you don't want to receive our newsletters anymore - just click the unsubscribe link at the bottom of this email. If you purchase a product through a link in this newsletter, we may be compensated for that purchase as an affiliate of the product. Then again, we also include lots of links to other websites and cool stuff for you, just cuz we are nice peeps and that's the way we do things. ;-)