New to our newsletter? Welcome!
Looking for the unsub button? Check the bottom of the newsletter!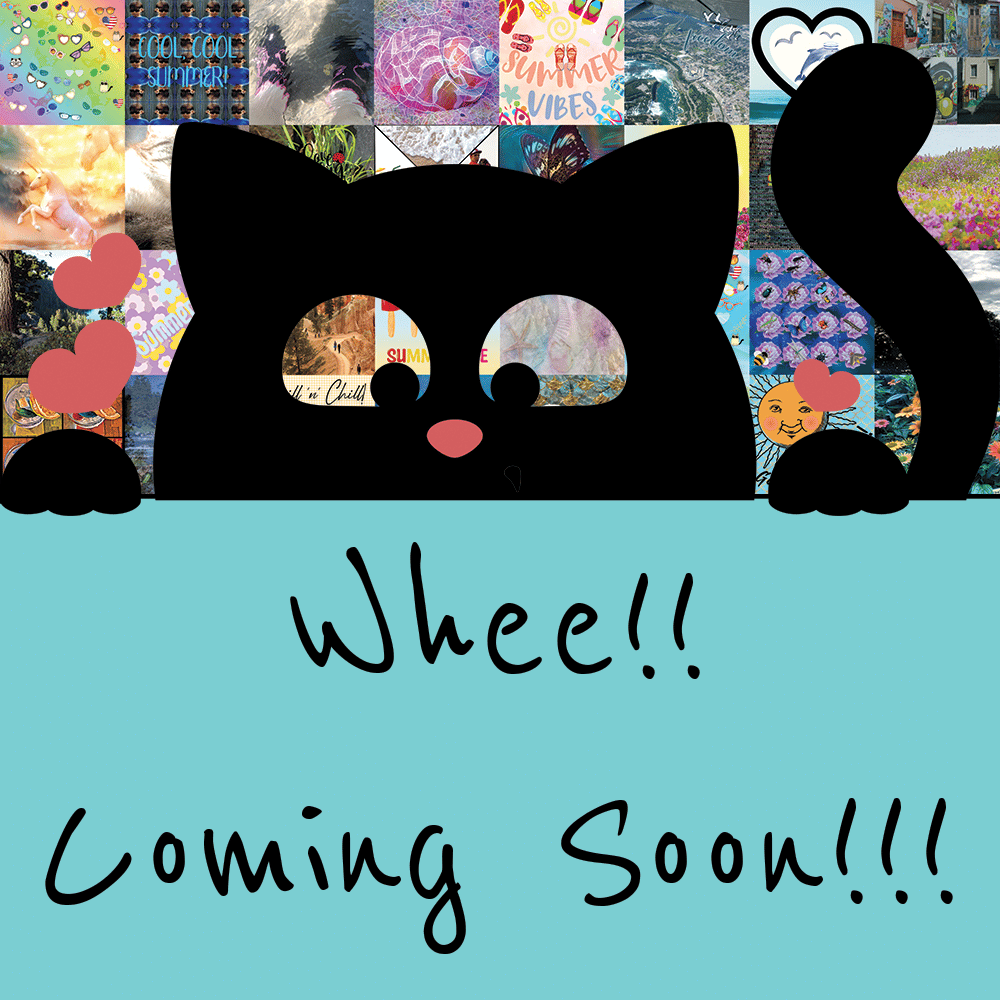 Well, today was a fun day in the NFT group - we unveiled our premier NFT offering - the FIRST in a SERIES of collages that we are doing as a group! This one is titled "Summer" and is a combination of 64 images from 27 contributors, spanning 4 countries & 3 generations! Our youngest artist is 5, and the oldest is "80-something".

It will go up for sale Monday, and we will send everyone a link to check it out! We have no idea if it will sell but it has been so much fun to do, and I can't wait til we launch the next one...and yes, that is a teaser behind the kitty cat!

We will be promoting our new NFT through press releases and social media for the next week. Do we expect to make zillions? No, (although it would be nice!) but it's a great story and I think we can get some great exposure for everyone involved!
And besides - once in a while it is nice to do something fun with a nice bunch of people ;-)


This weekend is a long one in the US - celebrating Independence Day! Be sure to open your emails from me this weekend as I have more goodies for you with FULL COMMERCIAL RIGHTS - use them to get to your own PERSONAL INDEPENDENCE DAY!!!
EMAIL MARKETING:
I

LOVE

IT.
I ALSO

HATE

IT.
But no matter how I feel about it - it is the lifeblood of my business!! And because it is - I am always on the lookout for new ways to improve my clickthrough rates and deliverability. One software that I have just picked up is Neil Napier's Clickvio which uses a new technology called MJML...a new framework that is responsive by design.

Mobile-First. And that makes Google very happy. If Google is happy...we are happy.


And that is a critical piece of info because that is what Google is focused on right now: providing the vast audience of mobile device users a BETTER experience for both websites AND email.

In fact, Gmail is coming down HARD and sending your emails to the PROMOTIONS or SPAM tab, if your emails don't work right every time.




Clickvio fixes this issue by letting you create drag and drop emails that will work with ANY AUTORESPONDER SERVICE that lets you create an HTML newsletter or email!!

Here's just a very small list of what this platform does - I cannot do it justice here!

Get More Sales Without Changing Your Current Autoresponder
Smart

Easy-To-Use Email Builder

Which Multiplies Opens & Clicks

Boosts Your ROI - Retarget on FB & Google -

Run Facebook & Google Ads To Your Subscribers - Automatically Add Retargeting Pixels To Your Emails.

Insert

conversion-boosting elements such as YouTube Videos

into your emails to rapidly increase click-through rates by up to 300%.

Add

clickable personal calls-to-action and Images

inside your emails. Engaging your customers 10x more than a regular email ever could.

Using video in your emails is a highly engaging and entertaining way to connect with your subscribers.

FREE Commercial License Included. Sell Dynamic & Interactive Emails To Clients For Top Dollar

I have not had time to put this through any testing yet but it is from Neil Napier,
and his products are always excellent - well supported and frequently updated,
so I am really excited about this one!


PLUS - use coupon code

Melsfriends

at checkout for $7 off.
I almost passed this one over this week because well, hasn't the subject been done to death? Yes, it has, but usually not in real, detailed, actionable steps. It turns out that the author is one of Matt Garrett's students, and that means he has been learning from one of the best in the biz.


The book is clear, and straight to the point, focusing on 7 strategies that I know work, because I use them myself - and I wish I had written this!! LOL...next time....

But the best part is this: I have bought $97 courses that did not lay out the path as clearly as this does, and it is only $12.


If you are new to affiliate marketing or want to up your game - this is 35 pages of solid, useable content - it won't break the bank but it WILL help you MAKE bank!
Don't forget - more goodies coming your way this weekend!!


Have a wonderful weekend, no matter where you are! Stay safe but have fun!

P.S. You can reach us by simply responding to this email - we actually do respond!! See all of our products or login to your Member's area at PLRoftheMonth.club
Please note: This is a commercial email, and you are receiving it because you signed up to one of our lists at some point in time. If you don't want to receive our newsletters anymore - just click the unsubscribe link at the bottom of this email. If you purchase a product through a link in this newsletter, we may be compensated for that purchase as an affiliate of the product. Then again, we also include lots of links to other websites and cool stuff for you, just cuz we are nice peeps and that's the way we do things. ;-)