• For the week's scheduled events, check the
CALENDAR
• To find your download page for products you have purchased, login
HERE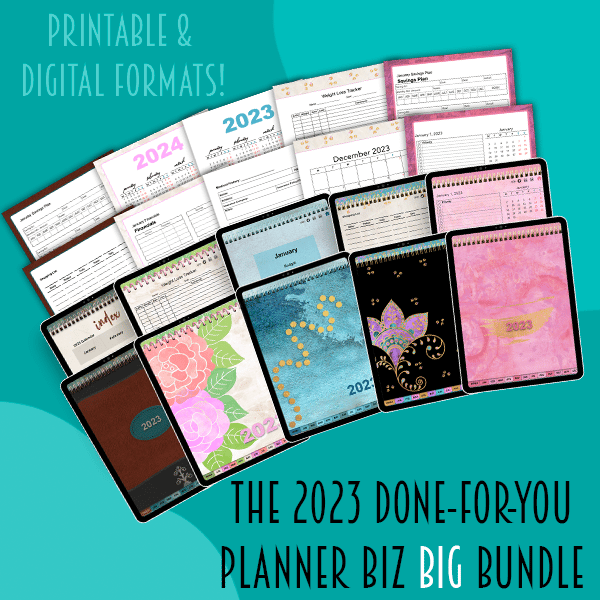 If you have not checked it out yet - this is your last chance to get this HUGE planner bundle for only $17:

All-new 2023 dated planners in Printable AND Digital formats
5 unique styles
30 new templates
10 sell-them-out-of-the-box-done-for-you planners - 5 Printable and 5 Digital!
Fully customizable!
Delivered in Keynote, Powerpoint & PDF
Full Commercial Use Rights (Includes PLR/MRR)
BONUS: LIVE WORKSHOP on customizing your planners

OTO 1 is a graphics bundle of 95 original Mandalas, 100 gorgeous new patterned papers (Color-coordinated to the new planners - thank you, Ruthie!) and 600 new "Frame" sets - one for EACH of Ruthie's 100 papers (Thank you, Steph!) A whopping $17 for this HUGE bundle of graphics that will keep you stocked and creating pretty new goodies for the rest of the year!


OTO 2 is a series of THREE LIVE 90-minute Workshops, focusing on different aspects of Affiliate Marketing: Being an Affiliate, Working with Affiliates, and Affiliate Marketing: Beyond the Basics. Ruthie Bowers and I will be doing the Workshops, which will include replays, slides and bonuses, with Stephanie Hansen as the Moderator, as we WILL be taking questions at all sessions. At $27 - this is an awesome bargain!



P.S.
This amazing membership is an incredible bargain! Every month, members receive A DigitalPlanner, a Printable Planner, Lead Magnet, at least 10 Covers and additional graphics, Stickers, Drag And Drop Templates & Widgets to customize your planner layouts and a LIVE WORKSHOP! All designs are exclusive to the PLUS members, and all products come with full commercial use rights. All of this for only $27 per month!


You can reach us by simply responding to this email - we actually do respond!! See all of our products or login to your Member's area at PLRoftheMonth.club
Please note: This is a commercial email, and you are receiving it because you signed up to one of our lists at some point in time. If you don't want to receive our newsletters anymore - just click the unsubscribe link at the bottom of this email. If you purchase a product through a link in this newsletter, we may be compensated for that purchase as an affiliate of the product. Then again, we also include lots of links to other websites and cool stuff for you, just cuz we are nice peeps and that's the way we do things. ;-)