• For the week's scheduled events, check the
CALENDAR
• To find your download page for products you have purchased, login
HERE
Well, the blue skies have finally given way to gray drizzle - we have actually gone from one of the wettest summers on record to one of the dryest falls, and I freely admit I enjoyed every blue sky day we had because we did not have many these last few months!


I have had several questions about the upcoming Affiliate Workshops that I am holding with Ruthie Bowers and Stephanie Hansen, so since there are only a couple of days left before the launch pricing ends, I thought I would take a moment to tell you more about what we have planned.


First of all, let me assure you that none of this is based on someone else's PLR course! Everything we will be discussing is first-hand "learned-in-the-trenches" knowledge and tips that we will be sharing with you.


Between the three of us - we have been working online for more years than any of us want to admit. But yes, dinosaurs roamed the web when we started.


Secondly, we will be looking at affiliate marketing from BOTH sides of the fence, as an Affiliate AND as a Vendor/product creator. The good stuff AND the bad stuff, and trust me when I say that there are good and bad aspects of Affiliate Marketing for both sides.


We will also be devoting an entire session to looking at several different platforms, including WarriorPlus, JVZoo, aMember, ThriveCart, and at least two others that are commonly used in our niche. We will be spending an entire session on this topic - at least 90 minutes but probably more.


Just to clarify, we will NOT be going over setting up an offer on these platforms but rather focusing on the pros and cons of each one from the Vendor side AND the Affiliate side - and some of you may be surprised at the issues for both sides that we will be sharing! And no, it is not going to be a pitch-fest of one platform over another so that we can earn a commission either.


There is NO perfect platform out there - what I like may not be a good fit for you and vice versa. Rather we will try to give a fair and balanced review of each one.


In short - this is a look at Affiliate Marketing that is NOT going to be another "rah-rah, you can make a zillion dollars a month in 15 minutes a day just like me" webinar - we have this bad habit of sharing the reality of things and we will be doing the same here.


Personally, I love Affiliate marketing, but there are potential pitfalls that not everyone is aware of, and we will share the Good, the Bad, the Ugly and the sometimes REALLY Ugly side of it with you - along with LOTS of tips on how to do it right, for your long term success ;-)



Featured Today - TL/DR version:


Need Additional Revenue Streams?

Sharyn at Content Sparks just released her Blog Post Bundle #8 - 5 different bundles of 10 articles each on the following topics: Customer Onboarding, Email Marketing, Entrepreneur Skills, Low-Ticket Offers, Project Management
ALL KINDS OF GOODIES FROM RUTHIE:
Whether you use this as a giveaway, sell it as your own, break it into blog content or just use it to advance your own knowledge - this is well worth the tiny price of $7 becasue it includes everything from the lead magnet to the download pages so you can actually put this to use IMMEDIATELY ;-)


You Can Never Have Too Many Revenue Streams.....
(PLR) Automatic from Kam Fatz
Kam is an experienced marketing pro, and I love his rare PLR releases. This newest one is a 14-email sequence/newsletter all about creating a membership-based business. More than 11,000 words with full PLR rights, this could also be used as blog posts or compiled for an ebook or lead magnet AND you can even sell them as your own. The bundle includes:

Get it here: Automatic from Kam Fatz


BUILD YOUR OWN COMMUNITY - Massfluence
If you are frustrated with competing with the noise, spam, and uncertainty of building your tribe on Facebook or TikTok, or looking to cut costs of the big course platforms, then Massfluence might be the solution for you.

I have not tried this out yet but it is the latest release from two long-time IMers, Ben Murray

&

Karthik Ramani, who have a good history with software, so I am pretty comfortable with this one.



The launch price is only $39 and includes a LOT of features - including the ability to build 100 sites and 500 Groups!!!



Tutorials & 24-7 Support

Create Resource & Blog Channels

Autoresponder Integration

Gamification Technology

Create & Run Events

Sell Digital or Physical Products

Upload and Host Courses

Live Chat and Direct Messaging

Video & Voice Marketing Tech.

QR Code Technology

20 DFY Templates

Make 100 Sites

Make 500 Private or Public Groups
GET FULL DETAILS HERE:
If you do anything with local businesses or WANT to - you REALLY want to check this one out!


This is a $9 weekend special from Luther Landro, who has been making bank offering some very simply services to local businesses - and there is no reason why you can't use some of that PLR sitting on your harddrive for this one! And yes, I picked this one up ;-)


BUILD OR SELL CLICKBANK REVIEW SITES - CB SITE PRO
This new offer lets you build Clickbank review sites in minutes and it even includes a WordPress Plugin so you have complete control over your websites.


If you wonder what is so neat about Clickbank, there are LOTS of great programs to promote (not just the crappy weight loss stuff you probably are thinking of) and you get APPROVED IMMEDIATELY TO PROMOTE A PRODUCT!!! Yep no waiting for someone to get around to approving you - and if you are new as an affiliate - you still get approved!!

I bought most of the funnel on this one ;-) - we plan to build websites, get them ranked and flip them over the next few months.


NEW PLR!!
NEW CHECKLISTS FROM KEVIN FAHEY
Kevin has 3 checklists on the market this week - the first two are re-releases but a great addition to your portfolio if you do not have them - or for your own personal use (I love them!). Perfect to add extra content to your planners too!
NEW LOW CONTENT GOODIES:

UPDATED & DISCOUNTED! ALL KINDS OF GOODIES FROM RUTHIE!
One of the best-known peeps in the 'low content' space is Ruthie Bowers, of Ritchhiemedia.ca. She has just updated a bunch of her bundles and has them on sale through Monday - and her Zen-style works are AMAZING!!!

Coupon code

OCTNEW20

saves 20% on all products until
October 31, 11:59 p.m. EDT
Coupon can be used up to 10 times per customer.
40 COLORING IMAGES - UNRESTRICTED USE!
These 40 black and white coloring pages from Hope are gorgeous and come with full unrestricted rights so you can use them for coloring books, greeting cards, holiday planners and so much more!


Jan from SimpleHappiness.biz is back with a new holiday planner featuring the "Naughty Christmas Elf" which is actually quite adorable ;-)


a beautiful ready-made cover

with editable text, 1 blank cover, 4 background options, and a belongs to page PLUS 34 unique pages
Powerpoint (.pptx) source files

provided
CANVA Templates

also included so you can use whichever tool you prefer to make your planner your own
Get Full Details Here:

LAUNCH SPECIAL ENDS NOVEMBER 1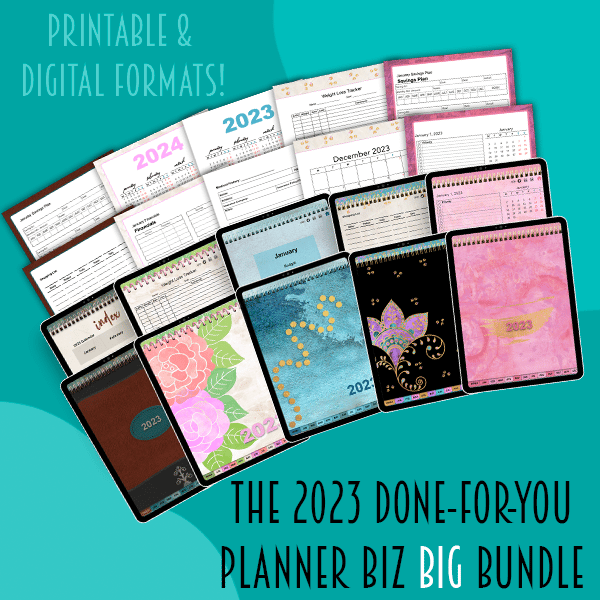 Finally HERE!!!
YES!! This launch is almost over!! This is the BEST deal I have ever put together and I can promise you that I won't be offering this kind of DEEP discount again!!


P.S.
This amazing membership is an incredible bargain! Every month, members receive A DigitalPlanner, a Printable Planner, Lead Magnet, at least 10 Covers and additional graphics, Stickers, Drag And Drop Templates & Widgets to customize your planner layouts and a LIVE WORKSHOP! All designs are exclusive to the PLUS members, and all products come with full commercial use rights. All of this for only $27 per month!


You can reach us by simply responding to this email - we actually do respond!! See all of our products or login to your Member's area at PLRoftheMonth.club
Please note: This is a commercial email, and you are receiving it because you signed up to one of our lists at some point in time. If you don't want to receive our newsletters anymore - just click the unsubscribe link at the bottom of this email. If you purchase a product through a link in this newsletter, we may be compensated for that purchase as an affiliate of the product. Then again, we also include lots of links to other websites and cool stuff for you, just cuz we are nice peeps and that's the way we do things. ;-)