• For the week's scheduled events, check the
CALENDAR
• To find your download page for products you have purchased, login
HERE
It's National Cat Day!
The temps have taken a plunge here but the skies are bright blue and the fall colors are in full brilliance! It's gorgeous and I will enjoy it while I can because...it won't last too long! The squirrels are all over the place, cheeks puffed out with their finds - acorns dropping in masses from our oak trees. Thanks to the wet summer, we have an abundance of them this year. The deer and turkeys have also been by for their morning strolls. Never a boring view from my office window!


BTW - I told the Hubby that it was National Cat Day and his response was:
"and that is different from every other day how?".


Have to admit he has a point as these fur gurlz are just a tad spoiled....


Now about that subject line:

I spent most of my business life as a straight-commission salesperson, a VERY successful salesperson, I should add.

But one lesson I learned very early on is that you NEVER rely on just one product to provide your livelihood. Companies change ownership. The market changes. Products come and go as the buying trends change.


Online, this is even more important to understand because things change SO much faster than they do offline.


Products/concepts/niches that are hot today are literally gone tomorrow. And no matter how hard you try, you will never control every aspect of your business - you will still need a hosting company, traffic from third-party sites or services, and ways to get paid that utilize services/platforms owned by someone else.


Since you can't control everything, how do you protect yourself and guarantee that you always have money coming in?

You create independent MULTIPLE streams of revenue.

At any given moment, I have at least 3 and usually more than 5 totally independent incomes. Different niches so that if one niche slows down - the others are still there and still get the bills paid. I have niche websites where I promote products from other platforms that are in several different niches. I flip those sites from time to time for some very nice $$$. We also do POD and dropshipping, mostly on a seasonal basis.


How about you? What would you do if your current niche died? Do you have a back-up plan? This is going to be a big topic in our 2023 Kitchen Sinks!!


Two of the best providers of written content have new offers this week:
Sharyn at Content Sparks just released her Blog Post Bundle #8 - this is some of the best-written content you will find and a steal at this price - this offer includes 5 different bundles of 10 articles each on the following topics: Customer Onboarding, Email Marketing, Entrepreneur Skills, Low-Ticket Offers, Project Management


Each of the blog posts is 500+ words which is the perfect length or you could combine them together for an 'epic' pillar post or create a nice lead magnet!

The second deal for written blog content is from PiggyMakesBank.com - I have been a member for years, and that is one of only a handful that makes the cut every month!

The Piggy Makes Bank Retirement Sale 2022 - There are a total of 30 packs, originally $27 each, that are being retired for only $10 each! If you don't like monthly memberships and don't want to fork out a bundle for 'lifetime' deals - this is a great time to beef up your written content - and this is going to very important for traffic generation in 2023!

Featured Today - TL/DR version:


Need Additional Revenue Streams?
You Can Never Have Too Many Revenue Streams.....
(PLR) Automatic from Kam Fatz
Kam is an experienced marketing pro, and I love his rare PLR releases. This newest one is a 14-email sequence/newsletter all about creating a membership-based business. More than 11,000 words with full PLR rights, this could also be used as blog posts or compiled for an ebook or lead magnet AND you can even sell them as your own. The bundle includes:

Get it here: Automatic from Kam Fatz


BUILD YOUR OWN COMMUNITY - Massfluence
If you are frustrated with competing with the noise, spam, and uncertainty of building your tribe on Facebook or TikTok, or looking to cut costs of the big course platforms, then Massfluence might be the solution for you.

I have not tried this out yet but it is the latest release from two long-time IMers, Ben Murray

&

Karthik Ramani, who have a good history with software, so I am pretty comfortable with this one.



The launch price is only $39 and includes a LOT of features - including the ability to build 100 sites and 500 Groups!!!



Tutorials & 24-7 Support

Create Resource & Blog Channels

Autoresponder Integration

Gamification Technology

Create & Run Events

Sell Digital or Physical Products

Upload and Host Courses

Live Chat and Direct Messaging

Video & Voice Marketing Tech.

QR Code Technology

20 DFY Templates

Make 100 Sites

Make 500 Private or Public Groups
GET FULL DETAILS HERE:
If you do anything with local businesses or WANT to - you REALLY want to check this one out!


This is a $9 weekend special from Luther Landro, who has been making bank offering some very simply services to local businesses - and there is no reason why you can't use some of that PLR sitting on your harddrive for this one! And yes, I picked this one up ;-)


BUILD OR SELL CLICKBANK REVIEW SITES - CB SITE PRO
This new offer lets you build Clickbank review sites in minutes and it even includes a WordPress Plugin so you have complete control over your websites.


If you wonder what is so neat about Clickbank, there are LOTS of great programs to promote (not just the crappy weight loss stuff you probably are thinking of) and you get APPROVED IMMEDIATELY TO PROMOTE A PRODUCT!!! Yep no waiting for someone to get around to approving you - and if you are new as an affiliate - you still get approved!!

I bought most of the funnel on this one ;-) - we plan to build websites, get them ranked and flip them over the next few months.


NEW PLR!!
NEW CHECKLISTS FROM KEVIN FAHEY
Kevin has 3 checklists on the market this week - the first two are re-releases but a great addition to your portfolio if you do not have them - or for your own personal use (I love them!). Perfect to add extra content to your planners too!
NEW LOW CONTENT GOODIES:

UPDATED & DISCOUNTED! ALL KINDS OF GOODIES FROM RUTHIE!
One of the best-known peeps in the 'low content' space is Ruthie Bowers, of Ritchhiemedia.ca. She has just updated a bunch of her bundles and has them on sale through Monday - and her Zen-style works are AMAZING!!!

Coupon code

OCTNEW20

saves 20% on all products until
October 31, 11:59 p.m. EDT
Coupon can be used up to 10 times per customer.
40 COLORING IMAGES - UNRESTRICTED USE!
These 40 black and white coloring pages from Hope are gorgeous and come with full unrestricted rights so you can use them for coloring books, greeting cards, holiday planners and so much more!


Jan from SimpleHappiness.biz is back with a new holiday planner featuring the "Naughty Christmas Elf" which is actually quite adorable ;-)


a beautiful ready-made cover

with editable text, 1 blank cover, 4 background options, and a belongs to page PLUS 34 unique pages
Powerpoint (.pptx) source files

provided
CANVA Templates

also included so you can use whichever tool you prefer to make your planner your own
Get Full Details Here:

LAUNCH SPECIAL ENDS NOVEMBER 1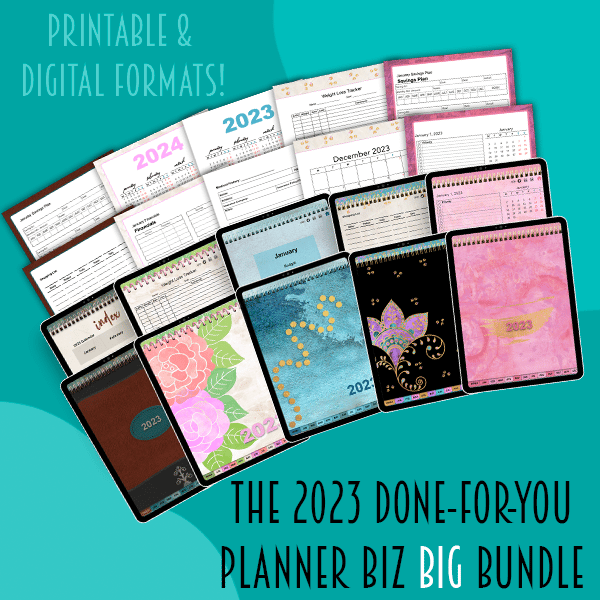 Finally HERE!!!
YES!! This launch is almost over!! This is the BEST deal I have ever put together and I can promise you that I won't be offering this kind of DEEP discount again!!


P.S.
This amazing membership is an incredible bargain! Every month, members receive A DigitalPlanner, a Printable Planner, Lead Magnet, at least 10 Covers and additional graphics, Stickers, Drag And Drop Templates & Widgets to customize your planner layouts and a LIVE WORKSHOP! All designs are exclusive to the PLUS members, and all products come with full commercial use rights. All of this for only $27 per month!


You can reach us by simply responding to this email - we actually do respond!! See all of our products or login to your Member's area at PLRoftheMonth.club
Please note: This is a commercial email, and you are receiving it because you signed up to one of our lists at some point in time. If you don't want to receive our newsletters anymore - just click the unsubscribe link at the bottom of this email. If you purchase a product through a link in this newsletter, we may be compensated for that purchase as an affiliate of the product. Then again, we also include lots of links to other websites and cool stuff for you, just cuz we are nice peeps and that's the way we do things. ;-)