• For the week's scheduled events, check the
CALENDAR
• To find your download page for products you have purchased, login
HERE
LOL and they are out there in abundance today, running all over the place, burying their acorns in the planters - because potting soil is so much easier to dig in than the dirt!! LOL

Another week bites the dust, and what a busy one! And yes, I was right - that tree from yesterday has almost no leaves left now.


I finally got the 2023 Done-For-You Planner Biz BIG Bundle launched with the help of two friends and fellow Kitchen Sinkers, Stephanie Hansen and Ruthie Bowers on Tuesday, had a 3-hour PLUS session that afternoon and then the Kitchen Sink Mastermind today that went more than 2 1/2 hours.


We are all thrilled at the reception and the feedback so far with the new launch, and the energy and enthusiasm we saw at both Zooms this week bodes well for 2023 for everyone!


I think we have all been worn down by the last 3 years and it's taken a little time to get our energy and excitement back again - but I think it is returning and 2023 is going to be 'full steam ahead'!


Instead of the usual design overview that we do in our PLUS format every month, we did an open 'any subject' Q&A to get a better idea of what everyone is needing to learn and where we are feeling lacking in knowledge right now, and we carried that same theme through to today's Kitchen Sink, mapping out topics that we want to learn more about and how we are going to get there.

We made GREAT headway today and will be finalizing our strategy and schedule before we break for the holidays. It was fun and energizing and I am really excited to see where we can go in the next few months!


One of the key things that everyone was interested in is generating more sales and that means getting more eyeballs to your offers.


Great quality content - well optimized for the search engines AND your readers is a key factor that we will be focusing on in Q1. Think guest posts, quality PBNs, strategic posting and backlinking and using the power of the group for everything we do.


Two of the best providers of written content have new offers today:
Sharyn at Content Sparks just released her Blog Post Bundle #8 - this is some of the best-written content you will find and a steal at this price - this offer includes 5 different bundles of 10 articles each on the following topics:

Customer Onboarding
Email Marketing
Entrepreneur Skills
Low-Ticket Offers
Project Management
Each of the blog posts is 500+ words which is the perfect length or you could combine them together for an 'epic' pillar post or create a nice lead magnet!




The second deal for written blog content is from PiggyMakesBank.com - I have been a member for years, and that is one of only a handful that makes the cut every month!

This is the Piggy Makes Bank Retirement Sale 2022 - There are a total of 30 packs, originally $27 each, that are being retired for only $10 each! If you don't like monthly memberships and don't want to fork out a bundle for 'lifetime' deals - this is a great time to beef up your written content - and this is going to very important for traffic generation in 2023!


5 emails custom-written emails
5 social media-friendly images that also work as blog post images!


All that - $10. Forget about trolling on Fiverr in January.....


And last but not least...a new pet peeve!!



It seems like this has happened WAAAAAAY too many times lately: wasting time trying to find the login link for a course or product that I have purchased.


Yes, in a perfect world, we would all immediately whip out that spreadsheet and make a note of what we just purchased and the login URL.

In the REAL world, you buy something quickly, and the email with the login details is buried in the deluge of other emails during the day and when you finally get back to the site to log in....there is no login link. OR the login link takes you to the member dashboard but the course you paid $197 for that morning is nowhere to be found because it is on another platform.

I wasted an hour yesterday trying to find two courses I purchased recently. I finally found one link buried in the last paragraph of the SALES PAGE and the other one? Well, the course creator has changed platforms, the lost password feature does not work and the course I bought a couple of months ago is nowhere to be found.

After this experience, I actually updated the Login experience on my own website - I have ALWAYS had a login link on the main menu of all pages, but that now goes to a landing page that also lists the products that I have launched through WarriorPlus so my customers will know where to look for their products.


Here's a great tip:
If you have a lousy customer experience on a vendor's site - check your own site to make sure YOUR customers are not going through the same thing!!

Amy's Newest GOLDMINE!!!
Amy Harrop's newest release, Easy Repeat and Sell Designs is a fantastic way to create products that are simple to design but will sell throughout the year AND create evergreen revenue streams for you!


Her course is very easy to follow and complete - you won't need to buy something else to make it work! She covers the following topics: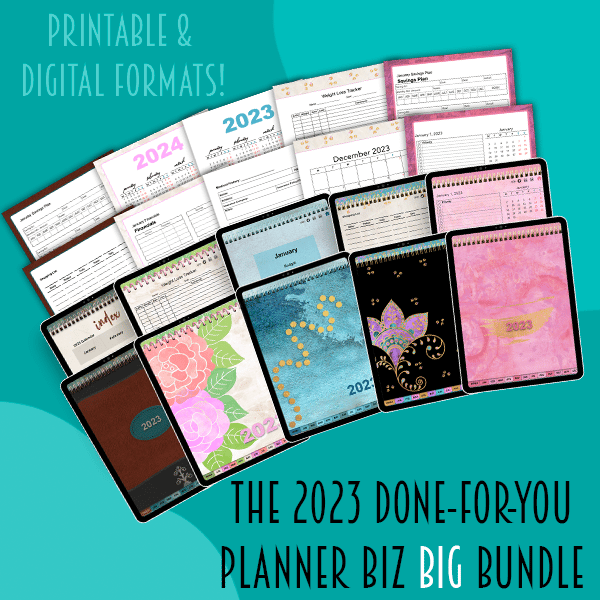 Finally HERE!!!
The 2023 Done-For-You Planner Biz BIG Bundle is an all-new 2023 dated planner, in 5 styles, Printable AND Digital formats, with 30 templates and a live Workshop. This is going to be a great seller for everyone as it is really 10 sell-them-out-of-the-box-done-for-you planners for only $17.00!!



This is a massive discount over my usual pricing, and will ONLY be good through November 1 ;-)
We also have two OTOs:
OTO 1 is a graphics bundle of 95 original Mandalas, 100 gorgeous new patterned papers (Color-coordinated to the new planners - thank you, Ruthie!) and 600 new "Frame" sets - one for EACH of Ruthie's 100 papers (Thank you, Steph!) A whopping $17 for this HUGE bundle of graphics that will keep you stocked and creating pretty new goodies for the rest of the year!


OTO 2 is a series of THREE LIVE 90-minute Workshops, focusing on different aspects of Affiliate Marketing: Being an Affiliate, Working with Affiliates, and Affiliate Marketing: Beyond the Basics. Ruthie Bowers and I will be doing the Workshops, which will include replays, slides and bonuses, with Stephanie Hansen as the Moderator, as we WILL be taking questions at all sessions. At $27 - this is an awesome bargain!


Ruthie and I have been running online businesses for decades - yes, since dinosaurs roamed the Interwebs - and we are both product vendors and affiliates, so we know the pros and cons from both sides. We don't publish our earnings - but we both do this full-time, and have for many years. This is NOT a hobby for either one of us, and the strategies we will be discussing are the foundations that we built our businesses on.
P.S.
This amazing membership is an incredible bargain! Every month, members receive A DigitalPlanner, a Printable Planner, Lead Magnet, at least 10 Covers and additional graphics, Stickers, Drag And Drop Templates & Widgets to customize your planner layouts and a LIVE WORKSHOP! All designs are exclusive to the PLUS members, and all products come with full commercial use rights. All of this for only $27 per month!


You can reach us by simply responding to this email - we actually do respond!! See all of our products or login to your Member's area at PLRoftheMonth.club
Please note: This is a commercial email, and you are receiving it because you signed up to one of our lists at some point in time. If you don't want to receive our newsletters anymore - just click the unsubscribe link at the bottom of this email. If you purchase a product through a link in this newsletter, we may be compensated for that purchase as an affiliate of the product. Then again, we also include lots of links to other websites and cool stuff for you, just cuz we are nice peeps and that's the way we do things. ;-)