• For the week's scheduled events, check the
CALENDAR
• To find your download page for products you have purchased, login
HERE
And yes,we launched this today, too!
I know, I know - I RARELY hit your inbox twice in one day, but Mark Hess and his partner, Michael Thompson, are moving all of their business from WarriorPlus to Clickbank, and the price is going to increase SUBSTANTIALLY when he does, so I wanted to let you know if you don't have these yet!!


According to the timer on their site....there are 8 hours left before this offer ends...and before you ask...I have ALL of these and more....27 plugins in total from Mark and Michael, so yes, I DO use them!!

And they do work as promised!!!


Here are the ones on special tonight - and the first 6 are my faves!!
WP Promote Guard

was developed after Google said you need to start marking up and qualifying your affiliate links or risk getting slapped and losing your search rankings. Obviously no one wants that to happen. Our plugin gets you into compliance with Google in 1-click instead of you having to add this markup to all your links manually. It works with any affiliate network and if you're using affiliate links on your site you need this plugin. Pay $13 one-time you never have to worry.
(Note I just picked this one up - but it is going on ALL of my sites ASAP as this is going to be super important in 2023)
WP Exit Traffic Pro

is an all-time classic. This is our exit intent plugin that allows you to show people an offer as they are leaving your site/page. The plugin senses when a visitors mouse is hovering near the browser address bar and then it will trigger a page to show them before they leave. Use this to show a last chance offer, offer a freebie to build your list, or use an affiliate link and show the visitor an affiliate offer as they are leaving. You will feel good knowing that you're no longer wasting traffic.
WP Click Engage

allows you to put small "click magnets" on your WordPress powered sites. You can use these to drive traffic anywhere. Use them to build a bigger list, make more affiliate commissions, get more webinar attendees, or send more people to your checkout pages. People can't help themselves, they want to click on these. Take advantage of that and use these creatively across your entire site or just on specific pages or posts.
Pop Under Pro allows you to deploy pop-unders on your site in 1-click. Anyone can implement these on their site in seconds and it's not the old-school way of displaying them on your site under the browser window. This is a new way of displaying them within a web browser or on any mobile device. It's the new way to do something old-school.
WP Max Traffic Map

automatically creates multiple types of specific sitemaps for your site that then get submitted to both Google and Bing. Not only will you get more FREE traffic to your posts and pages listed in Google and Bing organic search results using our plugin, but your images, videos, PDF's, and anything you upload to your WordPress site will rank and get free traffic as well. If you have a lot of content on your sites it just makes sense to start using this plugin.
WP Vid Engage

is super slick. Place tiny money-making video ads either sitewide or individual pages/posts with a clickable call-to-action below the video. Use this to build your list, advertise webinars, promote affiliate products, welcome people to your site, or to sell your own products. Drive traffic anywhere. Use your own videos or ANY YouTube video. Super effective and visitors can't help themselves they need to click on them. For under $13 we're basically giving this plugin away.
WP Scroll Convert

forces everyone that visits your site to view your offer. You can show a visitor anything you want as they are scrolling down your page. Show visitors a sales page, squeeze page, affiliate offer using your affiliate link, webinar signup page, affiliate bonus page, absolutely anything. There's a live demo on the sales page if you scroll all the way to the bottom. This is crazy effective. The more offers you put in front of people the more you make. Install this on your sites, you'll thank us later.
WP Ever Link

is like Pretty Links but better. Manage and control all your links from one dashboard, cloak links, track clicks, and also monitor your links 24/7. If a link goes down, you get an email. You can set backup links that will automatically redirect all traffic until the original link becomes active again. This is for people who are serious about protecting one of the most important parts of their business. We use this you should too. Never have a link go down and not know it.
WP Search Crawl

allows you to see when Google and Bing last visited all your specific pages and posts. Our plugin creates an extra column when you view all of your pages and posts so at a glance you see when Google and Bing are crawling your site and indexing your content. Has it been a long time since they last visited your site? Click a button and ping them in 1-click. Let them know you added new content, freshened up your site, or you just want them to pay your site a visit.
WP Mobile Contact Pro automatically detects if the visitor is using their phone when visiting your site. If the plugin detects that they are using their phone, a call-to-action bar appears on the bottom of your site allowing that person to call or text you in 1-click. The text and colors of the bar are customizable. Developer rights are included and there's not a business owner that wouldn't want this installed on their site. In 1-click a person can call or text them immediately while their phone is in their hand.
WP PHP Secure

was developed after noticing a file on many of our customers sites when doing support. This is a security 'add-on' type plugin because is compliments other security plugins and adds an extra layer of security by preventing a specific threat. If you download and install free plugins or themes on your WordPress site or allow anyone else to login to your WordPress site the threat of this happening is real. Be better protected in 1-click.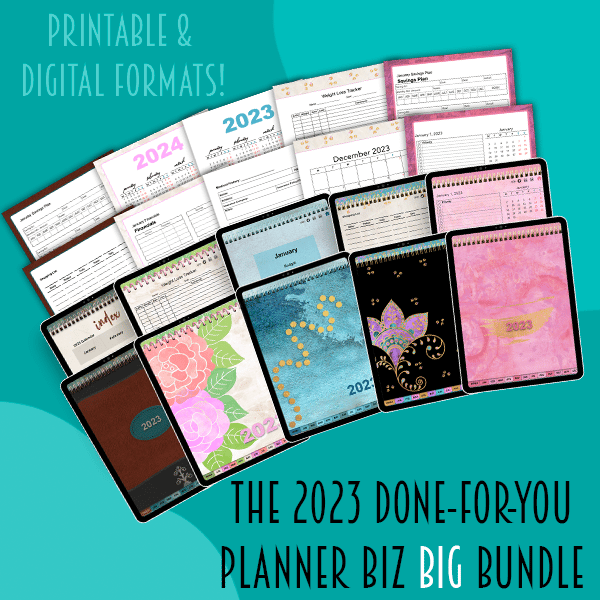 Finally HERE!!!
The 2023 Done-For-You Planner Biz BIG Bundle is an all-new 2023 dated planner, in 5 styles, Printable AND Digital formats, with 30 templates and a live Workshop. This is going to be a great seller for everyone as it is really 10 sell-them-out-of-the-box-done-for-you planners for only $17.00!!



This is a massive discount over my usual pricing, and will ONLY be good through November 1 ;-)
We also have two OTOs:
OTO 1 is a graphics bundle of 95 original Mandalas, 100 gorgeous new patterned papers (Color-coordinated to the new planners - thank you, Ruthie!) and 600 new "Frame" sets - one for EACH of Ruthie's 100 papers (Thank you, Steph!) A whopping $17 for this HUGE bundle of graphics that will keep you stocked and creating pretty new goodies for the rest of the year!


OTO 2 is a series of THREE LIVE 90-minute Workshops, focusing on different aspects of Affiliate Marketing: Being an Affiliate, Working with Affiliates, and Affiliate Marketing: Beyond the Basics. Ruthie Bowers and I will be doing the Workshops, which will include replays, slides and bonuses, with Stephanie Hansen as the Moderator, as we WILL be taking questions at all sessions. At $27 - this is an awesome bargain!


Ruthie and I have been running online businesses for decades - yes, since dinosaurs roamed the Interwebs - and we are both product vendors and affiliates, so we know the pros and cons from both sides. We don't publish our earnings - but we both do this full-time, and have for many years. This is NOT a hobby for either one of us, and the strategies we will be discussing are the foundations that we built our businesses on.
Amy's Newest GOLDMINE!!!
Amy Harrop's newest release, Easy Repeat and Sell Designs is a fantastic way to create products that are simple to design but will sell throughout the year AND create evergreen revenue streams for you!


Her course is very easy to follow and complete - you won't need to buy something else to make it work! She covers the following topics:



P.S.
This amazing membership is an incredible bargain! Every month, members receive A DigitalPlanner, a Printable Planner, Lead Magnet, at least 10 Covers and additional graphics, Stickers, Drag And Drop Templates & Widgets to customize your planner layouts and a LIVE WORKSHOP! All designs are exclusive to the PLUS members, and all products come with full commercial use rights. All of this for only $27 per month!


You can reach us by simply responding to this email - we actually do respond!! See all of our products or login to your Member's area at PLRoftheMonth.club
Please note: This is a commercial email, and you are receiving it because you signed up to one of our lists at some point in time. If you don't want to receive our newsletters anymore - just click the unsubscribe link at the bottom of this email. If you purchase a product through a link in this newsletter, we may be compensated for that purchase as an affiliate of the product. Then again, we also include lots of links to other websites and cool stuff for you, just cuz we are nice peeps and that's the way we do things. ;-)