• For the week's scheduled events, check the
CALENDAR
• To find your download page for products you have purchased, login
HERE
Yes, I have not been in your inbox for a couple of days, but I have NOT been laying around eating bonbons and watching the Hallmark channel (ok, actually, I might have done some of that, but not much). I have actually been working...a LOT.


Coming this, week (probably Friday) - is the all-new MASSIVE 2023 planner bundle release! 5 designs, DIGITAL AND PRINTABLE, 30 templates - all at a price that will make this affordable for EVERYONE. I mean,

really affordable

for everyone...

I want us all to get a jump start on the 2023 planner season, and with this bundle, you will have NO EXCUSES to not make money this season!!


I finished the designs today - and will be working on the JV page tomorrow, so if you would like to promote, you can sign up tomorrow...and there will be an affiliate contest too.


And now, back to work.....LOL!

Featured Today - TL/DR version:

Are You Ready To Get Started Turning Your PLR Images
Into Unique Items You Can Publish?
A rare chance to get Ruthie's flagship course, Creative Repurposing, at the best discount ever! Through Tuesday, September 6 - get 50% off with Coupon code: LABOURDAY50

Here's a peak at what's included:
Module 1 - Where to Find Images You Can Legally Use - 3 videos
Module 2 - How to Create New Images from Existing Ones - 4 videos
Module 3 - How to Work With Line Art and Patterns - 7 videos
Module 4 - How To Create Journal Templates from Coloring Images - 9 videos
Module 5 - How to Create Book Covers from Coloring Images - 1 video
A total of 25 videos with over 6.5 hours of training waiting for you inside!
BONUS: you'll also get the replays of the 5 live webinars from January 2021!
A rare opportunity to pick up one of Tiffany's "Limited" PLR bundles! Not sure why this one did not sell out, but this is about a very hot and promising new marketing concept for internet marketing, "Connected TV". I think this has some real possibilities for those of us interested in podcasting, too.


From Charles Harper - two outstanding new PLR Video courses Audacity Tutorials 2.0
and One Hour Product

Audacity Tutorials

is a step-by-step over-the-shoulder video series on the new version of Audacity but also includes his earlier Audacity 1.0 PLR Videos.

One Hour Product is a 9 Session DFY Masterclass that covers how to Launch A Live Workshop as a PLR Product, a topic that most of us are interested in!

Bonuses include:
- Resell Rights to 20 Additional Mp4 Videos Over the Shoulder Video Course: "Prepare Your Videos for Resale"


BEST BONUSES!!

7 FIGURE LAUNCH SYSTEM
Love him or hate him - you can't deny that Michael Cheney knows what he is doing when it comes to launching! I freely admit that I watch his videos in small bits over a week or more, but I always come away with pages of notes too.


And TBH - the bonuses are worth the price of admission to this one - at only $9.95 - you really can't go wrong. This is full of gems - just please!! - actually go through this and put it to use. Don't let this great info sit unopened!! (And yep, we all do that!)


NEW PLR!!

Cutting Operational Costs For Your Business
From Kevin Fahey, Volume 57 in Kevin's best-selling Checklist PLR series. This one is bound to be a popular topic given the economic situation right now, too! These are great lead magnets or content upgrades, blog content, mini-reports or even turn it into a planner/tracker for entrepreneurs!


Right now, the price is less than $8 and you get the following bonuses too:

Bonus #1

- Access To A Private Mastermind Group

Bonus #2

- PLR Video Training Series

Bonus #3

- 7 Figure Entrepreneur Book Bundle

Bonus #4

- 101 Ways To Profit With PLR
LOVE THESE

CANVA TEMPLATES FROM SASHA!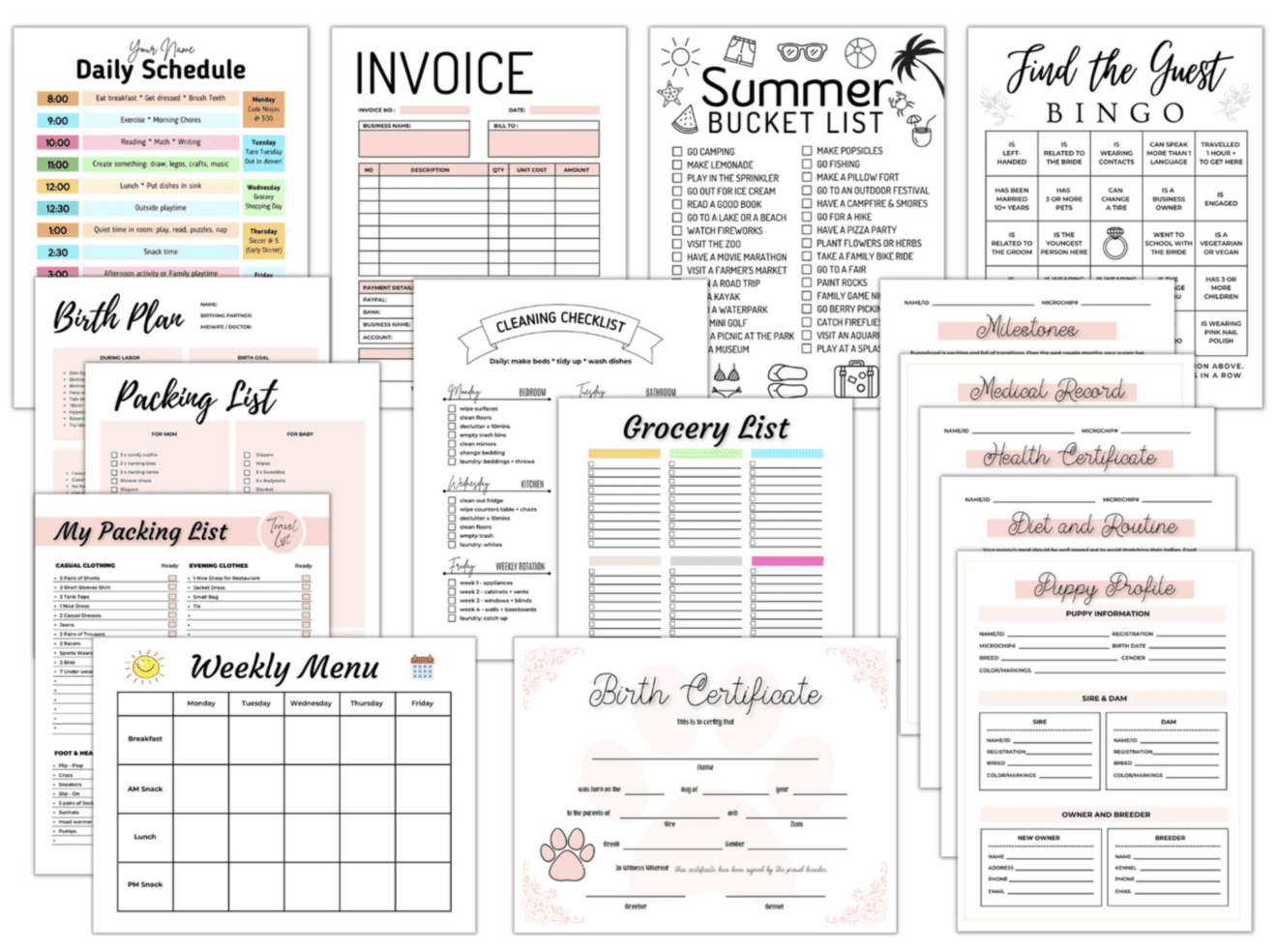 If you want to succeed at something - learn from someone already there - and Sasha is a top 1% seller on Etsy!! Her latest release includes 12 done-for-you templates, ready to sell as printable products or you make them into fillablea for you to resell in your own e-commerce shop.
Included are 12 commercial-use templates (32 pages/US Letter size) that you can customize for free in Canva.
Templates are in size US Letter.
4) Birth Plan & Hospital Bag Checklist
7) Menu Planner and Grocery List
BONUS: 9 listing images you can use to sell your products more quickly
Only $19 for this amazing product bundle!


NEW PRODUCT!

MIX & MATCH BORDER ART KIT
Border Art Designs - Mix n' Match Bundle Pack
Another gorgeous and creative new product from D'vorah! This new set is a 'mix and match' bundle of border designs - use them to create new stationary products or dress up your planners, journals, notebooks and more!


P.S.
This amazing membership is an incredible bargain! Every month, members receive A DigitalPlanner, a Printable Planner, Lead Magnet, at least 10 Covers and additional graphics, Stickers, Drag And Drop Templates & Widgets to customize your planner layouts and a LIVE WORKSHOP! All designs are exclusive to the PLUS members, and all products come with full commercial use rights. All of this for only $27 per month!


You can reach us by simply responding to this email - we actually do respond!! See all of our products or login to your Member's area at PLRoftheMonth.club
Please note: This is a commercial email, and you are receiving it because you signed up to one of our lists at some point in time. If you don't want to receive our newsletters anymore - just click the unsubscribe link at the bottom of this email. If you purchase a product through a link in this newsletter, we may be compensated for that purchase as an affiliate of the product. Then again, we also include lots of links to other websites and cool stuff for you, just cuz we are nice peeps and that's the way we do things. ;-)