New to our newsletter? Welcome!
Looking for the unsub button? Check the bottom of the newsletter!
• For the week's scheduled events, check the
CALENDAR
• To find your download page for products you have purchased, login
HERE
Oh, Lookie!! Kitchen Sinks
...um...okaaaayyyy...

I hope this finds everyone rested up after the weekend, and if you are in Canada - enjoying the holiday! One of the stars of the Cincinnati Reds baseball team, Joey Votto, is from Toronto, and finally was able to play in front of his friends and family this past week, something he has not been able to do since the pandemic began. And the best part was that he even managed to hit a home run. I think we appreciated it more than his home crowd did though LOL ;-)


QUICK PUBLIC SERVICE ANNOUNCEMENT!
Colleague and friend, Ruthie Bowers, RitchieMedia.ca is going to be MIA for a couple of days - not by choice! Seems that the area she lives in was hit by a massive power outage Saturday and could be out until Wednesday. She is safe and thankfully it's moderate weather right now, but she won't be sending out her famous newsletter for a couple of days!


And about that header today...
ROFL over and over...yes, someone posted a sales pitch for...(insert drumroll here, puleeeze)..KITCHEN SINKS in our Kitchen Sink Mastermind group today ;-)
A fantastic example of why automation is not always a good thing...although in this case - until this post - they were pretty smart about it as the person/thing/entity that posted this has actually been a member of the group for 2 months!


Automation works for a lot of things but not everything.

Using a software tool to schedule and post your content across various social media is fine and very helpful to make sure you have a consistent presence online - but only AFTER you have manually made the connections and joined the groups.

Posting inappropriate content will not get you new leads or customers and on some sites, will get you banned. And changing your email address won't help as some are now banning you by your IP or MAC address.

At least twice a week I receive an email from a company that wants to "JV" or "collaborate" with me. The email is the same, all with a fake sales rep pic in the sig file, and all addressed to "Tiffany". The emails are the same too - they want me to post their article on my website - which is not a JV or collaboration by any stretch of the imagination.

And of course, the content is not relevant to my site, which means that no one actually LOOKED at the site (Look ma! NO hands!) - and I have no idea who Tiffany is ;-(

But I do know who is selling this software with big promises of amazing lead captures, incredible list building and oodles of traffic for just $47....and it's all just 'set it and forget it' automation.

Uh, no, more like just forget it.

The truth is that there ARE some great ways to put your list building on autopilot but 99.99% of the 'push button' programs out there are not the way to go!

A generous sprinkling of optin forms and great lead magnets, human-friendly and interesting content, and a few engaging social media posts will do much more for you in the long run - and be much less risky to your website, your social media accounts and your reputation ;-)


But I have to admit - that kitchen sink sp*m ad was pretty funny!!
ICYMI...my finds from my weekend reads ;-)
Zooming around!
Tuesday
Kitchen Sink PLUS (paid membership)
2:00 PM EST
Zoom details are on your download page - this month's release is the FIRST in our 2023 dated series, and yup, a bit of work on this one!! ;-)


Kitchen Sink Mastermind (open to all)
Kevin Fahey Follow-up – Free Traffic Shotgun
Follow-up has been rescheduled to Tuesday, May 31, 2:00 PM EST


I snapped this one up as I think it will make an AWESOME list-building lead magnet!
Easy to SEO content will always drive traffic to your site and there is not much out there on this topic! Here's what this one covers:

0001 - Rebrand Multiple PLR Videos Into 1
0002 - Rebrand Using Video Hosting Tools
0003 - Rebrand Video As a Live Session
0004 - Rebrand Videos as a Paid Discussion or Community
0005 - Rebranding Videos By Adding Your Own Voice
0006 - Rebranding Videos By Adding A Camera Element
0007 - Rebrand Your Video with Annotation and Editing
0008 - BONUS - Should I Use YouTube As My Video Host
0008 - Rebranding Your Videos By Where and How You Deliver Them
0009 - Rebrand Your Videos As Education for Opt-In
0010 - Making Connections for Purchasing Your Video Content
NEW FREE CLASS:
How to Use PLR to Grow Your Business
Alice Seba is one of the sharpest people in the business when it comes to building a hugely successful PLR business with a rabidly loyal audience - and she is sharing her secrets, along with EkitHub partner, Yusef Kulan, in an upcoming FREE class!
This free class will teach you how to use done-for-you, private label right content to:

Build your traffic
Grow your loyal audience of buyers
Quickly and easily publish products
This class is being run by Alice Seba and Yusef Kulan of EkitHub, who have combined over 20 years of content marketing experience AND have sold millions of dollars in private label rights content.
* Using content to build a loyal audience who can't wait to hear from you...even if you don't create that content yourself.
* Creating a pack of hungry buyers who gobble up your new products...including how to make awesome products from done-for-you content.
* How to find extremely budget-friendly private label, done-for-you content you can seamlessly incorporate into your marketing plan and unique brand.
If you're up for learning how to seamlessly integrate done-for-you content into your business filled with loyal fans and customers, then you won't want to miss this one!
5 Different Sessions to Choose From!


Register Now!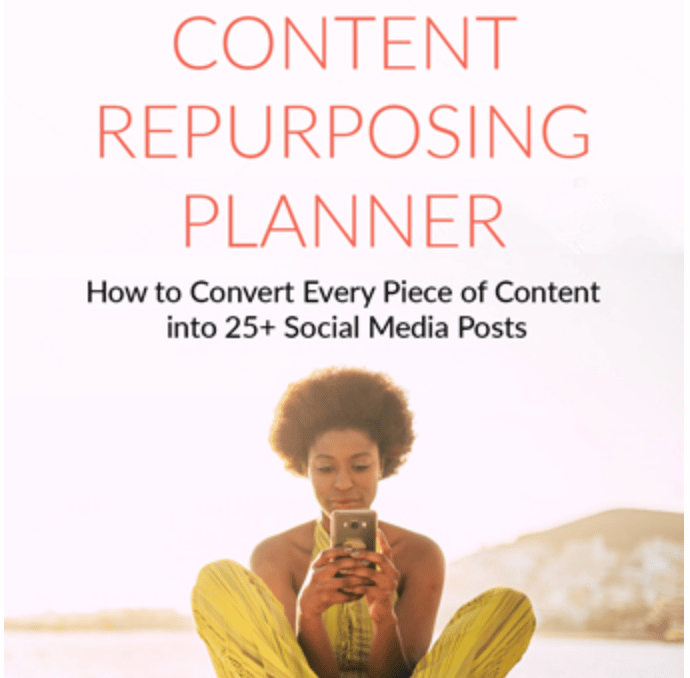 From Coach Glue comes a topic that is near and dear to my heart, and this planner nails it!


This 39 page planner covers:
Step 1: Set Clear Goals to Purposefully Repurpose Content


Step 2:

Create Fresh, Optimized Content to Make Repurposing a Breeze

Step 3: Feed Your Fans & Followers High-Quality Content on Facebook (Without Extra Work)

Step 4: Give Your Most Irresistible Content a New Home (And New Exposure!) on Instagram

Step 5: Pin Repurposed Content & Keep It In Front of More Potential Clients Longer

Step 6: Love Up New Leads With Old Content on Linkedin

Step 7: Transform Your Content Into Tiktoks That Entertain & Educate

Step 8: Get The Most Bang For Your Content Buck
This "content repurposing planner" comes in Word as always -- AND it also comes in

Canva

AND it comes with

2 emails to promote it so you could put it up for sale in an hour.
50% Off

with Promo Code: 50
These are absolutely gorgeous, and can be used for so many different products, from coloring books to journals and planner/



The image above is part of my bonus for this one - a set of 5 covers I have that are perfect for this set! They are already uploaded to your Warrior Plus account
I LOVE this new PLR from Sharyn
at Content Sparks because it is very much in tune with my philosophy of offering lower-priced products that your audience can actually afford!
Low-Ticket Offer Lab
is all about how to use low-ticket front-end offers to build an audience of buyers.

This is a MASSIVE course and worth every penny!
Course Book (8764 words, 62 pages)
Action Guide (44 pages)
Sales Funnel Page Templates (5 pages)
Email Templates
Summary Cheat Sheet (2381 words, 20 pages)
Slideshow (168 Slides)
Speaker Notes (in Slide Notes below slides)
Design Kit for Digital Planners
FROM: Helen, ILovePlanners.com


192 Unique components from Coils to Covers to create and customize
your digital planners!


Regularly $37,
get it now for just $10 with coupon code MELMAY2
Yadsia just launched a new 'quick-and-done' course that will show you exactly
how she has set up and grown her Shopify store to sell digital products beyond Etsy. What I love is that Yadsia has created a "lightning roadmap" to identify which lessons you need to watch first, in order to get your shop up and running TODAY. You won't spend days or weeks going through the material - you can take action now and get your shop live!!
The course is on sale for another 48 hours for only $37!!

The price increase is just a week away! This is 12 hours ++ of LIVE Hands-On training on creating Digital Planners - by someone that is doing this on a daily basis!
Namely, ME!!

AT $47 - you won't find a better deal anywhere ;-)



You can reach us by simply responding to this email - we actually do respond!! See all of our products or login to your Member's area at PLRoftheMonth.club
Please note: This is a commercial email, and you are receiving it because you signed up to one of our lists at some point in time. If you don't want to receive our newsletters anymore - just click the unsubscribe link at the bottom of this email. If you purchase a product through a link in this newsletter, we may be compensated for that purchase as an affiliate of the product. Then again, we also include lots of links to other websites and cool stuff for you, just cuz we are nice peeps and that's the way we do things. ;-)