New to our newsletter? Welcome!
Looking for the unsub button? Check the bottom of the newsletter!
• For the week's scheduled events, check the
CALENDAR
• To find your download page for products you have purchased, login
HERE
And it's almost done....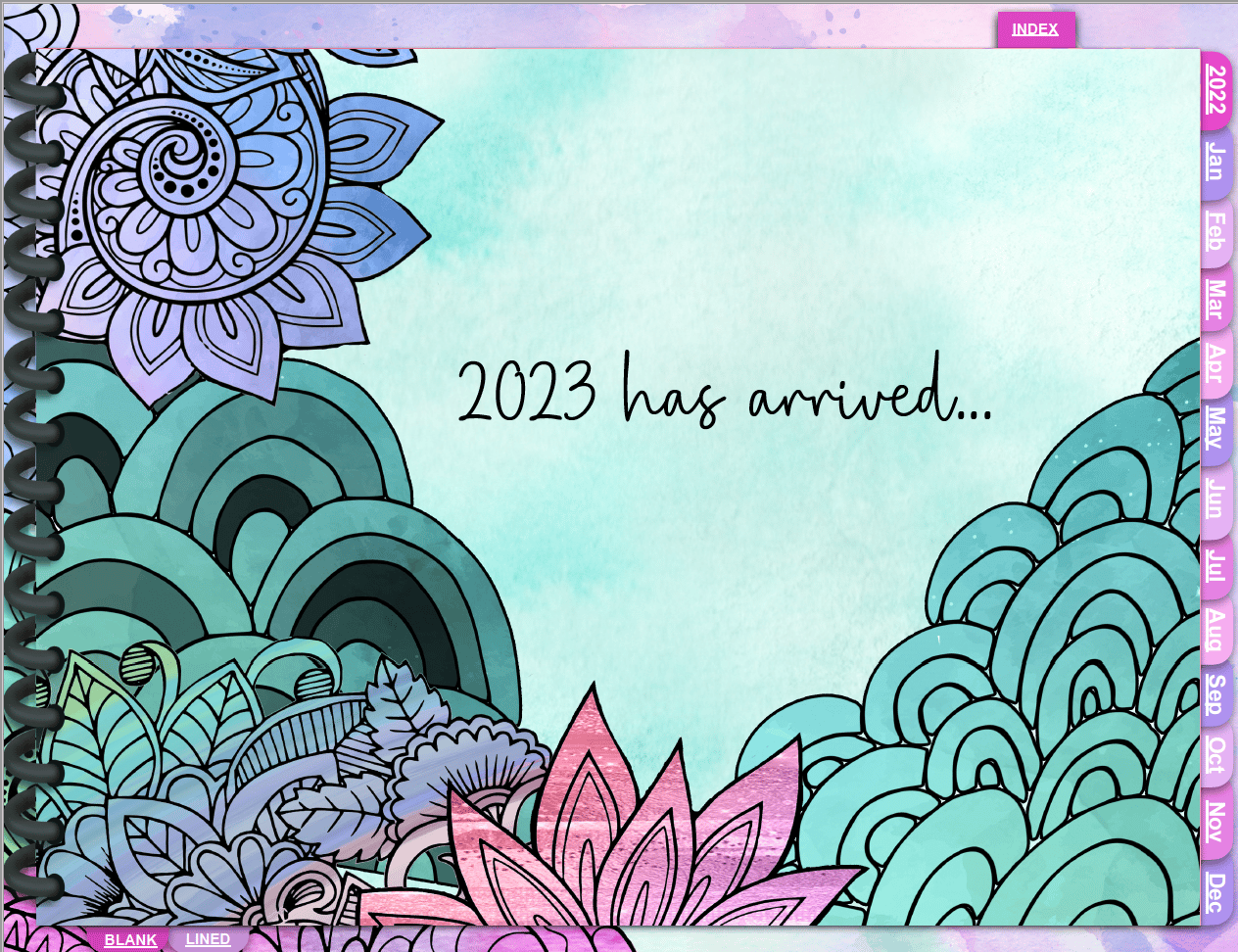 I've lived a lot of different places - dozens of different cities, several states and even a couple of different countries, and no matter where you are (except in Calif!) people will almost always tell you how changeable their weather is.


But I have to say that when Cincy residents tell you this...it's true ;-) LOL Our weather in the last few days has gone from 80s to bringing the new plants in because of frost warnings, calm and gorgeous to tornado warnings. Spring in Cincy is always interesting and not for the faint of heart LOL!
///

The planner above is the new exclusive design that will be done tomorrow for those of you that purchased Ruthie's bundle through my link - it will be accessible via your member area at RitchieMedia.ca late tomorrow. I do apologize for being a few days late but still trying to get back on schedule from whatever it was that we had the last 2 weeks!


New designs will be released soon for public sale - both 2023 Dated and Perpetual undated planners :-)
///
And thank you to everyone for the great feedback regarding our upcoming WordPress & CPanel walkthrough, May 12, at 3:00 PM EST. This is our next Kitchen Sink Zoom, as we do not have one this coming Thursday (tomorrow).


And YES!! There will be replays - they will be available indefinitely on our KS group page.


An overview of what we plan to cover:
A basic walkthrough of the CPanel interface
How to setup your Domain Name Servers (DNS)
A basic walkthrough of the CPanel interface
How to set up your email accounts and forwarders
How To install WordPress via CPanel (one button easy!)
Basic WordPress setup
Gutenberg Intro
This is open and free for everyone, but you MUST register for this event - you can find the details in your member dashboard and on the Kitchen Sink Mastermind group page ;-)

Not a member? No worries - just sign up HERE


Upcoming topics will include SEO basics, optimizing your content, creating lead magnets, email sequences, and whatever else the KS wants to hear about!


If you would like to share your knowledge and expertise -
just hit reply and let me know what and when!
///
PLUS Membership Update!!

The price has been lowered on the PLUS membership to $27!! If you have not been billed yet for April - just cancel your membership in your PAYPAL account, and sign up HERE

If you recently paid for the month of April, you can cancel now, and sign up again around the 15th of May at the new rate. I will also be refunding you the difference between the old rate and the new rate over the next few days ;-)
Sign up HERE for the NEW $27 price!!
From Sharyn at ContentSparks.com comes a new "Epic" Blog Post! So very timely considering how much time we have spent recently on SEO!!

Strategically applying some basic, simple SEO tactics is all it takes to get on the front page of Google - even easier thanks to recent algorithm changes with the Big G!

You can use this as blog content, a quick video, or even an optin report for your readers!
And just a reminder to get your free gifts at Ellen Finkelstein's
Ruthie and I have a good one in there for you!


The Uniquely You Giveaway is a very different and unique event: Each gift includes an opportunity for you to get personalized attention — a 1-on-1 session, small group workshop or coaching session, assessment, email coaching, etc.

These products usually sell from $27 to $1497 but are free through May 9.


Ruthie and I are offering two LIVE Workshops, sharing how we have built our lists through events, bundles and JVs, without spending a dime on ads - PLUS 2 beautiful planners (one from Ruthie and one from me!) - and full training on how to customize them for virtually any niche!
In these two live, interactive sessions, you will learn how to:
• build your list through bundles, giveaways and summits
• customize the included bonus lead magnets for each event's unique audience
• be the contributor that gets invited back – again and again!
• the key to maximizing your efforts and optins
This is the 2022 updated version of one of the best animated HTML5 banner/ad creators I have ever owned!
This latest version includes more than 1000 templates PLUS live training - here's a sample of the types of creatives you can make:

Swiper Banner
Billboard Banner
Foldable Banner
Carousel Banner
Rollover Banner
Scratch Banner
Expandable Banner

Be sure to use coupon code: pixal10off for $10 off at checkout!!

From our very own Kitchen Sinker - Yasko! his gorgeous brightly colored Financial Planner comes with Commercial Use Rights too!


LOVE the colors and personality of this one!


And to all - May the 4th be with you!!

Have a wonderful evening!

P.S. You can reach us by simply responding to this email - we actually do respond!! See all of our products or login to your Member's area at PLRoftheMonth.club
Please note: This is a commercial email, and you are receiving it because you signed up to one of our lists at some point in time. If you don't want to receive our newsletters anymore - just click the unsubscribe link at the bottom of this email. If you purchase a product through a link in this newsletter, we may be compensated for that purchase as an affiliate of the product. Then again, we also include lots of links to other websites and cool stuff for you, just cuz we are nice peeps and that's the way we do things. ;-)