New to our newsletter? Welcome!
Looking for the unsub button? Check the bottom of the newsletter!

• For the week's scheduled events, check the
CALENDAR
• To find your download page for products you have purchased, login
HERE
It's Sunday and the snow is almost gone but the wind continues to blow and it is still cold out there! The skies are blue though, so that does help the mood a bit...at least until I look at the forecast for the rest of the week...YIKES!!! Suffice it to say, I am not planning on leaving the house much this week ;-(


••••••••••••••••••



That's a sneak peek above at the new Perpetual Digital Planner - featuring a 'page flip' effect, rounded page corners showing the inside of the 'cover' and overall, really replicating the look and feel of a real paper planner.

This will drop for PLUS members this week, and a new design will be on sale to the public the following week, as all designs for the PLUS membership are exclusive to the membership and I do not sell them outside of the membership.

And thank you to everyone that sent in suggestions for upcoming designs - we have some fun ones coming up! Send yours in so I can get them on the schedule!

if you have any ideas, or need a certain topic - don't hesitate to reach out and let me know!!


And big news coming soon for our upcoming Vendor Showcase!
The date is March 29th - and we have a BIG announcement coming
very soon for our key Speaker!! WOOT WOOT!!!

This is going to be a fun and 100% FREE event for all to attend!!
More details early this week, as soon as we have the times nailed down!!!



As you know - I am not a fan of 'lifetime' memberships, but this one has now been around for a while, and actually has several thousand customers. This is a combination video creation and storage solution, and at this price, it is a viable option that will let me drop the higher-priced Zoom plan that I have. It will also let me get my videos embedded on my site, and off Dropbox, which is something I have wanted to do for a while for several reasons.

This is just a BRIEF list of all that is included - it's loaded to the gills with features, and is all most of us would need:

Use Coupon Code: mingo20 at checkout to get $20 off
(expires in 5 hours)


Learn and Teach the Exact Technical Process of Setting Up Viral Applications to Generate More Leads - this is just a small sample of what this one includes:

0001 - Introduction to Upviral and Lead Gen Applications
0003 - Setting Up Your Autoresponder
0005 - E-Mail List Verify Integration
0007 - Starting a New Campaign
0009 - Campaign Sharing and Action - Custom
0011 - Design Page
0013 - Campaign Autoresponder Settings
20 videos in all with PLR too - use it yourself to learn AND sell it to make a profit!
ENDS MONDAY!
Matt Garett has spent years perfecting the art of launching and marketing of solid EVERGREEN products, and this is his complete A-to-Z guide on how to replicate what he does. This is a well-done course that covers:


• How to create evergreen products that sell
• How to get ideas and research products for any niche
• Scale to the sky - how to build your product funnels
• A simple tweak to the 'norm' that creates recurring offers
• Zero Cost methods - no expensive software needed to start
• The 'Pricing Bible' - this information will skyrocket your conversions
As of this writing, it is on a dime sale at $17.49


Right now, Affiliate Marketing accounts for about 40% of my monthly income, via email marketing, social media marketing, and organic website traffic (growing!) - but the best part is that over the past year, it has helped to take the hills and valleys out of the month, and created a more consistent income stream.


Michael's method does not just focus on launches, but rather a

systematic

approach that includes finding products AND traffic generation. If you are in our Kevin Fahey Boot Camp, I think this is a very complimentary product!
Yes, this one warrants a bonus! I would love to do another Boot Camp to work through the course as a group and get everyone set up and working our way towards that goal of multiple evergreen revenue streams - and $ every single day!


So the bonus is a 3 Session "Mini" Boot Camp and we will work through the process and set up as a group! Bonus link will be in your W+ account WEDNESDAY!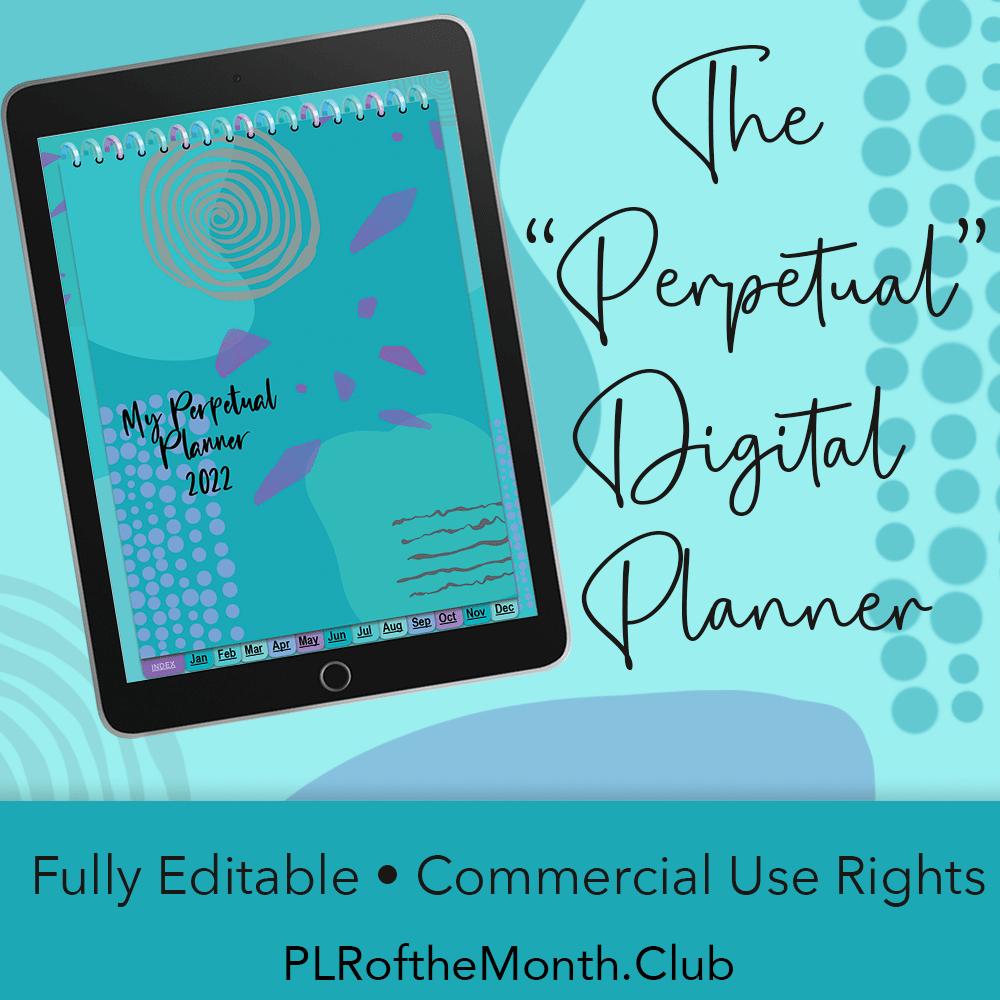 As I am sure you already know - Chad Eljisr launched his annual "PLR Stack" and it is definitely right up there with Ruthie's Bundle (coming in a couple of weeks) for my fave PLR Bundle because it is such a jam-packed bundle of bargains! 36

it includes over 35 high-quality PLR products from top Online Publishers. Here are a few of the many amazing contributors to this bundle:




Pretty much all of your fav content creators are in there along with some great courses and tools as well!
The total value of this bundle goes over $1,630 - but from now through March 17th - it is only $27.00!!
That's it for today - and back to work on those planners!

P.S. You can reach us by simply responding to this email - we actually do respond!! See all of our products or login to your Member's area at PLRoftheMonth.club
Please note: This is a commercial email, and you are receiving it because you signed up to one of our lists at some point in time. If you don't want to receive our newsletters anymore - just click the unsubscribe link at the bottom of this email. If you purchase a product through a link in this newsletter, we may be compensated for that purchase as an affiliate of the product. Then again, we also include lots of links to other websites and cool stuff for you, just cuz we are nice peeps and that's the way we do things. ;-)