New to our newsletter? Welcome!
Looking for the unsub button? Check the bottom of the newsletter!

• For the week's scheduled events, check the
CALENDAR
• To find your download page for products you have purchased, login
HERE
We're having a heatwave....a tropical heatwave.....ok, so not quite, but the sun IS out, the sky IS blue and the temps are rising - we should get above freezing today ;-)


And that means that spring is right around the corner....more or less...so I thought I would dig out some pretty floral covers. Actually, today you get 4 florals and 2 fun vintage steampunk covers with full PLR/Commercial Use rights.

Download them here - no optin necessary since you are on the newsletter list already:
A Question From A Reader:
This is a question that I receive frequently, and I thought I would answer it here..

Q: How do you choose what products to promote?


A: Very carefully!! Sometimes there are so many new products released, that it is overwhelming, so I try to choose what I think will benefit us the most. And I say US, because I also buy most of the products I recommend. Whenever possible, I will go through a product and check it out before including it, especially software tools. But no matter how much you test, a bug can pop up later that was not evident during testing. It happens and that is why I rarely promote a product from someone that I do not know. So many times, if an issue does arise, I can reach out to the vendor and get it resolved quickly, and that makes a huge difference to your customers - and your reputation!

On a sidenote: If I do NOT promote something, especially in the PLR niche, it does not mean that I don't like it, it might just be that I know someone else is able to offer you a better bonus for it, or the newsletter was already too long that day. There are so many new products that launch in our space every day, that it is tough to keep up with them all!! ;-)




MONDAY WORKSHOP!!


Yes, The Jim Daniels Bonus Email Marketing Workshop is on! Power is not blinking and hopefully, we won't be buffering on Zoom! Your details for this are in your account on WARRIOR PLUS!!!

You do need to pre-register for the workshop, so give yourself a few minutes beforehand to go through the process.


Only $7.99 at the time of this newsletter!!
One of the people that I promote with confidence is Kevin Fahey - he is a real person, and the more I see him interacting with others in his Facebook group, the more I come to respect him.

His foundation program is built around his PLR Checklists, which cover just about everything you can think of that you might need to build your online business. #50 has just dropped and this bundle contains 18 checklists focused on getting your Pinterest ads up and running:

Setting Up Your Pinterest Business Account

Selecting Your Target Audience And Act Alike Audience

Selecting Your Pinterest Pin

Selecting Board Topics And Content

Installing The Pinterest Tags On Your Website

Creating A Schedule And Content Calendar

Optimizing Your Pins

Driving Referrals And Traffic To Your Pinterest Account

Growing An Engaged Community On Pinterest

Creating Pinterest Campaigns

Optimizing Your Images For Pinterest Ads

SEO tips for Pinterest

Creating Ads And Measuring Ads Success On Pinterest

Creating A Clear CTA For Your Pinterest Ads

Targeting And Bidding Strategies For Your Pinterest

Pinterest Best Practices

Optimizing Pinterest Ad Performance

Creating Your Ad Group
You get full PLR with these Checklists and they make terrific planners, workbooks, training videos, use them as blog posts for fantastic Google 'food', give them away to build your lists or even put them together for 'mini' books. The list of things to do with them is endless ;-)
PLR Video Releases
The Print On Demand Playbook
This latest release by Charles Harper goes beyond the usual POD and includes overviews on both the 'traditional' POD platforms as well as Digital products that can be printed 'on demand' at home AND you also get expert sessions from some peeps you all know and love: Amy Harrop, Rebecca Holman, Amber Jalink, Sue Fleckenstein, Di Heuser and yep...me. Did I mention this is $7 right now??
Written PLR Releases
Looking for new ideas for planners or workbooks? This is EXACTLY the kind of PLR I love to snap up for these kinds of projects! Yes, this DOES come with all the goodies to sell it as a product on it's own - but I use these types of products as SEED material to save me research time! Add some checklists, Q&A, tracking/planning templates - the list is almost endless! - to create an entirely new and unique product that you can sell!You could create an 'interactive' PDF, printable or digital planner in a couple of hours, and have a very high-value product unique to you! As of this newsletter - it was still under $9!! ;-)



Low Content Product Bootcamp


From Sharyn at ContentSparks - one of my fave course creators for SOLID content that can be utilized quickly and for multiple uses. With Low-Content Product Bootcamp, you'll get everything you need to create your own webinar, workshop, lead magnet, or paid product that helps people create quick products for easy revenue.



Business Ideas That Make Money
I am a long-time member of the PiggyMakesBank business content membership, and it's probably one of the better values online. This bundle includes a variety of business ideas for your readers that will be AMAZING search engine food as well if you are looking for easy-to-optimize content for better SEO!!


From Alice at EKIT, this massive bundle gives you three different options ranging from $9.95 to $27. All 3 are great deals - but the $27 option has everything from articles to printables, so you can create everything from blog posts to a full-blown course or challenge with Workbook very easily.


Tools & Software Releases
ClickDesign is one of the best software editing tools I have come across in quite a while, and it includes a ton of graphics and templates as well as commercial use rights. It's a one-time cost of $47 and creates much better 3D images and product bundles than anything else I am using (you haven't seen mine in a while because it sorta looks 1990ish??). I was about ready to pull the trigger for a $77 replacement when this came along! BONUS: Buy through my link and get a $10 coupon
good for anything on our site ;-) Send your receipt to [email protected]
Low Content PLR Releases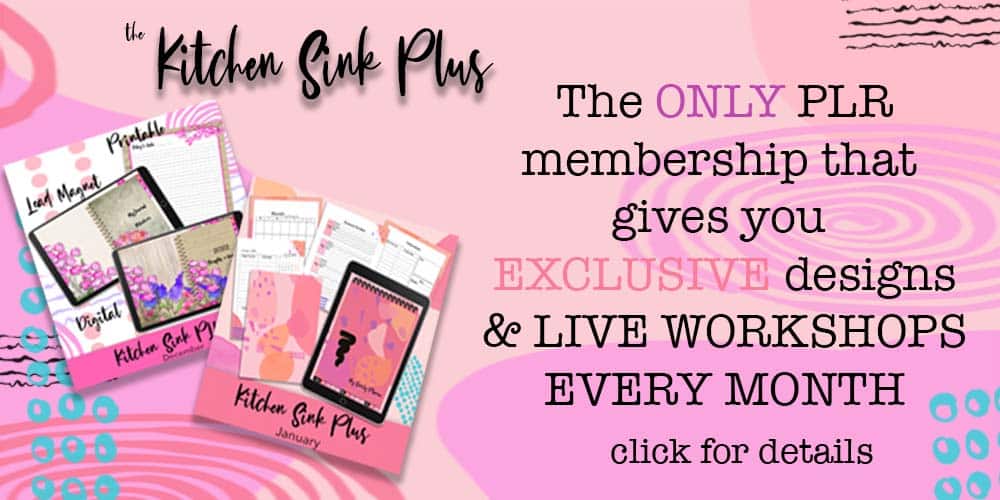 Our Kitchen Sink PLUS membership is open for new members!! January's PLUS bundle is a huge one - in addition to the usual Digital Planner, Printable version, and Lead Magnet, I also added 10 Title Banners, and 160 Stickers, both on sheets and cropped as individual PNGs. PLUS you also get the massive layered PSD Cover Creator file, and 10 covers already created for you ;-) J

oin now and get both December and January's bundles and training

- use

KSPLUS

for $10.00 off!
A big Happy Birthday shoutout to Stephanie Hansen - and she has a gift FOR us - that gorgeous "
One Good Thing A Day
" Journal above!
Use coupon code BDAY57 through Monday - and you can use it multiple times!!
The sale is on through Monday and the coupon is on the sales page HERE
Working on three different directories for us right now (you will have to wait and see) and a new - totally different - planner coming out very shortly.

Have a wonderful evening!

P.S. You can reach us by simply responding to this email - we actually do respond!! See all of our products or login to your Member's area at PLRoftheMonth.club
Please note: This is a commercial email, and you are receiving it because you signed up to one of our lists at some point in time. If you don't want to receive our newsletters anymore - just click the unsubscribe link at the bottom of this email. If you purchase a product through a link in this newsletter, we may be compensated for that purchase as an affiliate of the product. Then again, we also include lots of links to other websites and cool stuff for you, just cuz we are nice peeps and that's the way we do things. ;-)