New to our newsletter? Welcome!
Looking for the unsub button? Check the bottom of the newsletter!

• For the week's scheduled events, check the
CALENDAR
• To find your download page for products you have purchased, login
HERE
If you have been watching the news, we are in emergency prep for a massive winter storm here. Duke Energy has already advised us that we are likely to be facing power outages due to the ice storm that started last night and is still going on - they have even brought in additional crews from southern states to deal with what is coming. Our trees are covered with ice, and our power lines (still above ground here) are hanging low, so have a feeling it is just a matter of time!


Our power has already blinked several times, and I just tried Zoom and it is buffering and cutting out on me, so I am going to make the preemptive decision to cancel the Kitchen Sink call this afternoon.


Tomorrow's Charles Harper Walkthrough is probably iffy, but wanted to let everyone know as soon as possible so you can utilize the now available time!


ClickDesign is an amazing bundle of graphics & templates PLUS a full graphics editing suite as well! Bob hates PhotoShop (sound familiar?) and he is having a blast with this!

Here is a partial list of the features this includes:

Drag & Drop, Point & Click Editor
100% Fully Customizable Template
28 Niche Categories for Templates
​Logo & Favicon Design Templates
2D & 3D Boxshot Design Templates
2D & 3D Book Cover Design Templates
​2D Report Design Templates
Digital Device Mockup Design Templates

(Monitors, Laptops, Tablets, Phones & Watches)
Group Shots Design Templates
​Instant LIVE Preview
​Step-by-step video tutorials so you can go from zero to expert instantly

The truth is that I cannot possibly do this product justice here - it's a one-time cost of $47 and creates much better 3D images and product bundles than anything else I am using (you haven't seen mine in a while because it sorta looks 1990ish??). I was about ready to pull the trigger for a $77 replacement when this came along


Buy through my link and get a $10 coupon
good for anything on our site ;-)
Send your receipt to [email protected]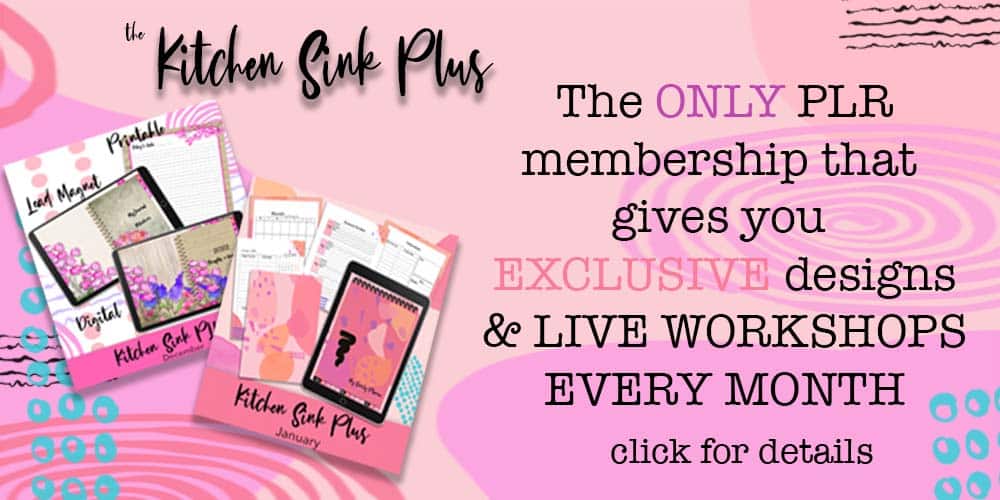 Our Kitchen Sink PLUS membership is open for new members!! January's PLUS bundle is a huge one - in addition to the usual Digital Planner, Printable version, and Lead Magnet, I also added 10 Title Banners, and 160 Stickers, both on sheets and cropped as individual PNGs. PLUS you also get the massive layered PSD Cover Creator file, and 10 covers already created for you ;-)


We also just opened back up for membership -

join now and get both December and January's bundles and training

- use

KSPLUS

for $10.00 off!
New PLR - Great Google Food!
Dan Summer and Dave Nicholson have been producing PLR for years, and their bundles are always huge and full of useable resources. Whether you want a turn-key product to sell, a lead magnet to build your list, or articles to fill out your blog or Google food - this one has you covered:

• Complete Point And Click Setup
• Full Minisite Graphical Template.
• Professionally Written Sales Page
• Ready Made Squeeze PageFully
• Editable Word Source Docs
• PLR Profit Machine Training
• High-Quality Graphical Images
• Private Label Rights Articles
• Ready to go Email Swipe Copy
• Ready to go Download Pages


As of this newsletter - it was still under $10 ;-)


This is a necessity -
an investment in your success....
The Blog Income Tracker!
Debbie Gartner is without a doubt one of the most successful bloggers I know - and she can tell you her stats down to the penny at any given moment. She is AMAZING at her tracking and analyzing skills. She has just released her own spreadsheets that she has spent 5 years perfecting, and trust me, this is a tool we can ALL use!!

Check it out here - this could be the best $27 you spend all year:
This is one of the best AI Content Programs yet! I have tried Jarvis and several others and so was hesitant to pick this one up, but I like the fact that it is a credits-based system rather than another monthly subscription, so I only need to pay for actual use. Since I tend to do content in spurts and schedule things ahead, this is perfect for me! Creaite is from Joshua Zamora, a long-time and very supportive software creator, and one of the top vendors on JVZoo. I have software that I bought years ago from Joshua that I still use, so I think support will be good as well.



Use code: FINALCALL
for $10 off AND Double Credits

(Price is increasing at Midnight)


And now off to find my candles and flashlights....

P.S. You can reach us by simply responding to this email - we actually do respond!! See all of our products or login to your Member's area at PLRoftheMonth.club
Please note: This is a commercial email, and you are receiving it because you signed up to one of our lists at some point in time. If you don't want to receive our newsletters anymore - just click the unsubscribe link at the bottom of this email. If you purchase a product through a link in this newsletter, we may be compensated for that purchase as an affiliate of the product. Then again, we also include lots of links to other websites and cool stuff for you, just cuz we are nice peeps and that's the way we do things. ;-)